In the field of racket sports, Wilson has managed to attract the greatest athletes, including Roger Federer in tennis, as well as Fernando Belasteguin in padel. The latter has also recently introduced a range of superior quality products bearing its own signature, the Bela series, thus highlighting the notoriety of the Chicago brand.
Over the years, Wilson has managed to expand its product range to satisfy a wide range of players, from aggressive attackers to seasoned defenders.
A variety of racket lines are available, giving each player the opportunity to find the model that best suits their preferences, including the Ultra, Blade, Pro Staff and Bela.
The return of the Carbon Force
The company continues to refine its range of snowshoes padel with the brand new iteration of its famous series Carbon Strength.
The prestigious American manufacturer offers a reinterpretation of one of its emblematic references, almost ten years after its first launch. This racket, the Carbon Force Pro V.5, offers an exceptional combination of power, control and precision. We might as well tell you right away, it was specially designed to satisfy the needs of gamers. padel looking for thrills.
The Wilson aesthetic remains clean and minimalist, with a classic and elegant combination of black and gray. These two colors considered timeless and sophisticated create a subtle but effective contrast. This association evokes refinement and sobriety, while offering versatility and neutrality which allow other colors, such as yellow, used for the brand name and its reference, to stand out.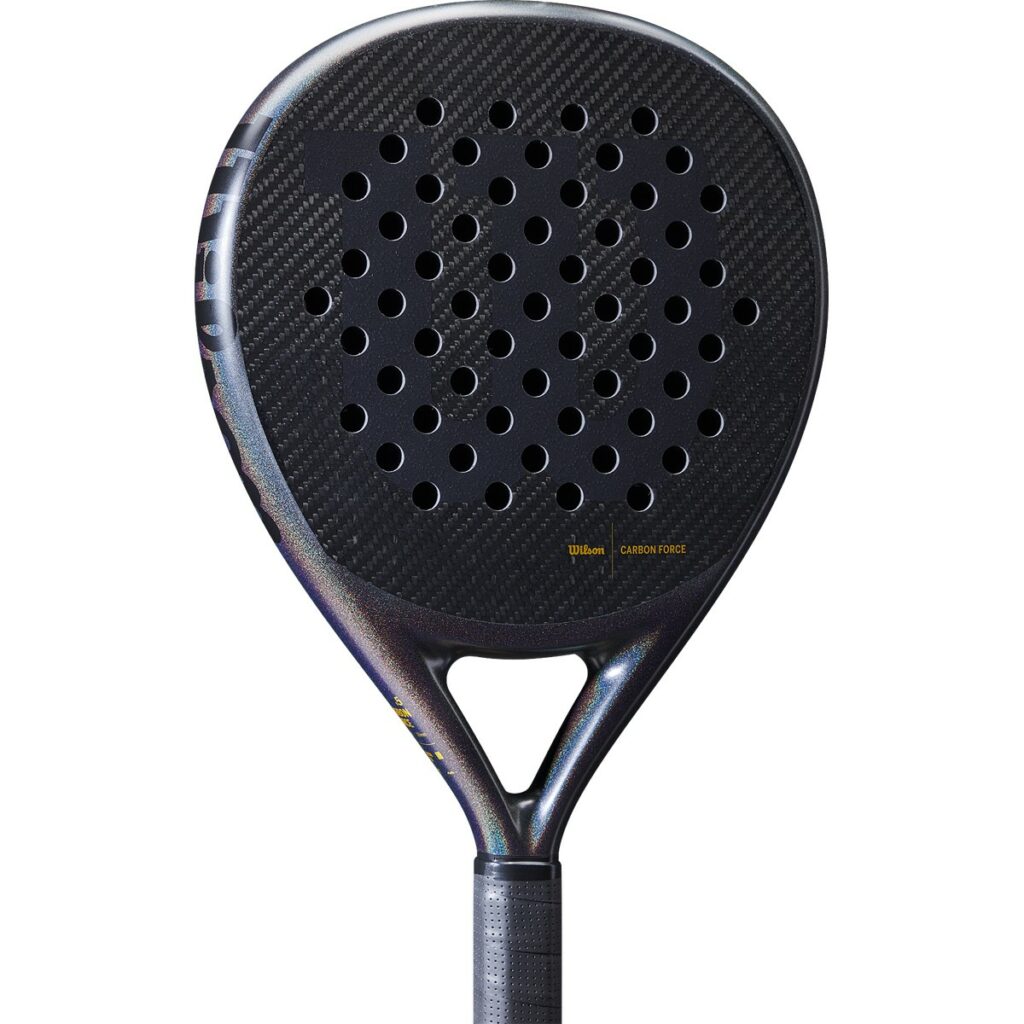 Important innovations
This reference also has several important innovations as you will see below.
the texture Spin Effect is characterized by a series of small hexagons distributed across the striking surface of the racket. These hexagonal patterns are designed to provide additional grip to the ball, which can help players generate more spin on their shots, and improve accuracy and ball control.
The presence of technology sharp hole is still relevant. This is an intelligent perforation arrangement system that optimizes aerodynamics and widens the ideal sweet spot.
Wilson also offers a removable wrist strap, designed to offer personalization and security. This sliding strap is fitted with an Agiplast bio-sourced nylon cap which can be removed at will by players when they wish to wash or change their cord.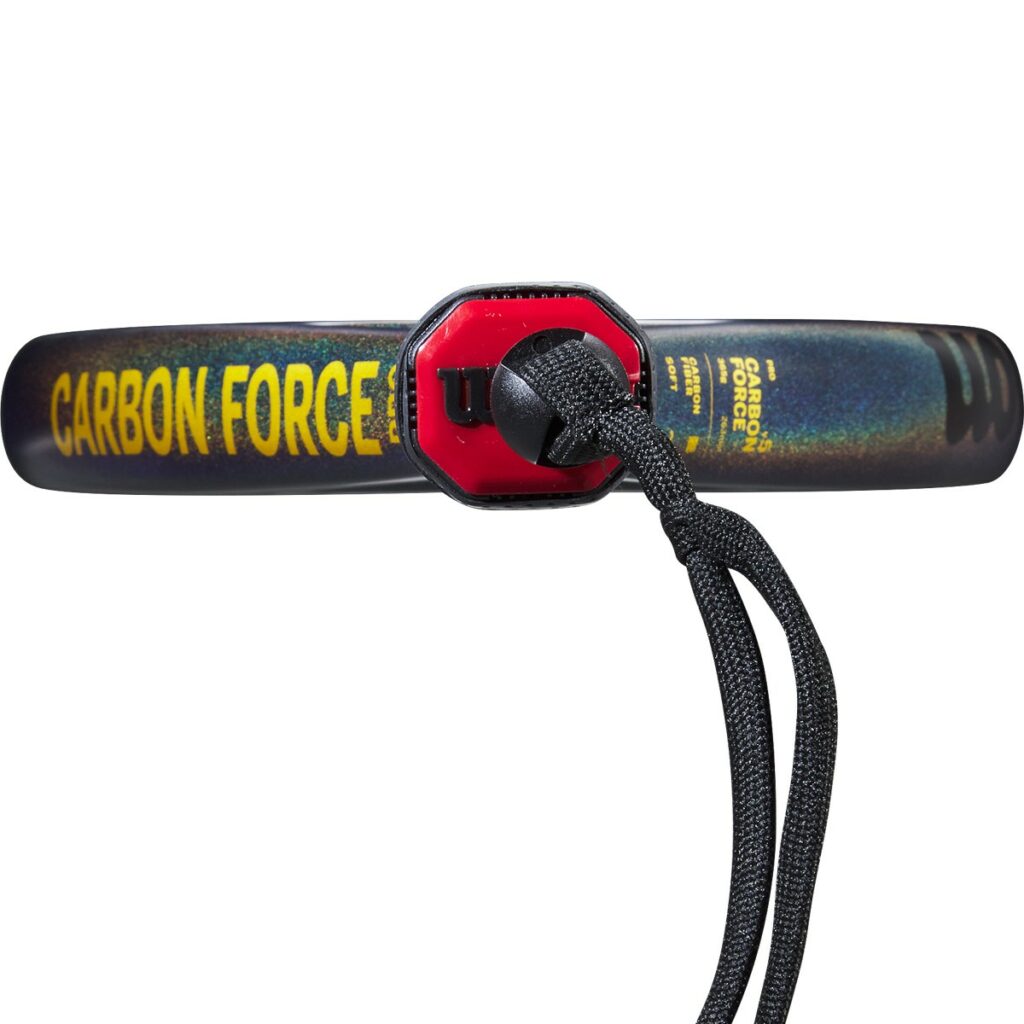 This pala is equipped with a Sublime Grip, which offers a perfect combination of softness, grip and comfort, with micro-perforations for better moisture absorption on the surface. However, it is important to note that the stock grip is rather thick, so those who prefer a thinner grip will need to remove it and only use an overgrip.
As you will be able to see, this reference has many advantages, and we will explore in more depth the characteristics of this emblematic series brought up to date.
To get a first impression by simply reading the name of the racket, it is important to note that "Carbon" evokes power, "Strength" suggests the explosive aspect, and PRO is used as an abbreviation of professional.
With its teardrop shape (on the border of the diamond) and its balance oriented towards the head of the racket, it clearly has a profile suited to an offensive and aggressive game.
The plan is constructed from Carbon Fiber Face, a material composed of a carbon fiber fabric specially designed to resist high torsion. This term refers to a unique technology used in the construction of some of the tennis rackets and padel from the American firm. This is an innovation that involves the use of highly resistant and lightweight carbon fibers to reinforce the frame or striking surface.
Here are some important points to note about the Wilson Carbon FiberFace:
Rigidity and resistance : Carbon fibers are known for their exceptional strength. When integrated into the face of the racket, they reinforce the structure, which contributes to better impact resistance and greater durability of the racket.
Torsion reduction : Reinforcing the racket face with these carbon fibers reduces twisting, meaning the racket maintains better stability when striking the ball. This can result in improved precision and a greater sense of control.
Power and responsiveness : Racquets with the Carbon FiberFace process tend to offer a good combination of power and responsiveness. The carbon fibers help absorb the energy of the ball and return it with more force when hitting.
Aesthetic design : In addition to its functional benefits, the Carbon FiberFace can also contribute to an aesthetically appealing design, giving the racket a modern, premium look.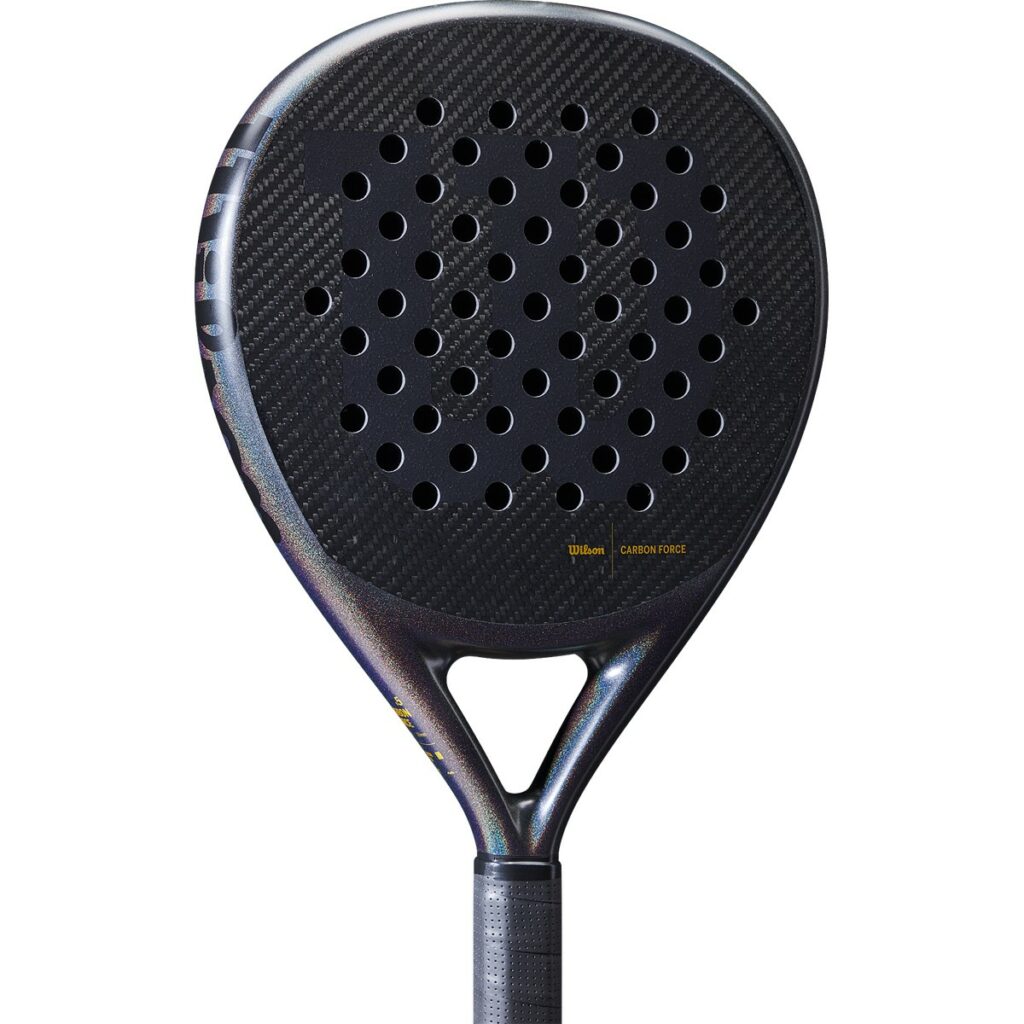 The composition of the core is based on the "Soft Eva Foam," a variation of EVA (ethylene vinyl acetate) foam used in the manufacture of some tennis rackets. padel of the brand. This rather soft foam provides more pleasant ball contact and a better ability to absorb vibrations, which may please some players. padel looking for a special gaming experience.
However, it is important to note that sometimes gaming experiences may differ slightly from what the technology in question is intended to deliver! This is precisely what we are going to explore right now, sharing the impressions I got from playing repeatedly with this new version.
Stakes !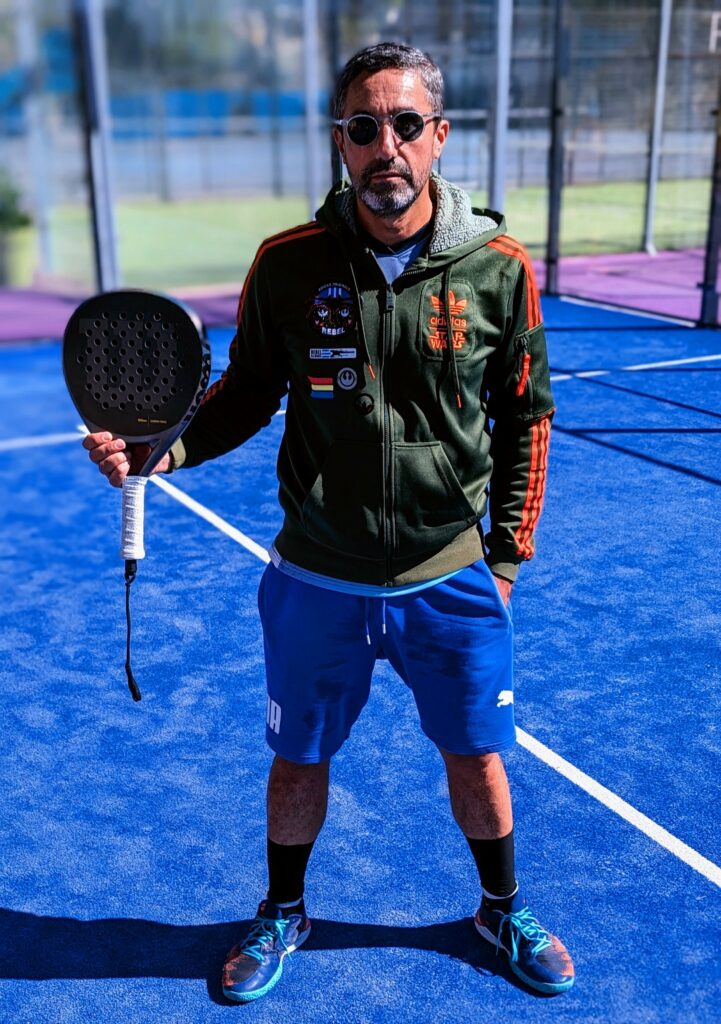 From the first strike, we are immediately surprised by the size of the punto dulce, which is surprisingly wide for a racket of this shape. The feeling of being able to hit the ball with complete confidence, without worrying about centering precision, is an undeniable and much appreciated advantage.
Another point to note is that, despite the inclusion of the Soft rubber in the core, this racket maintains notable rigidity during strikes. It is therefore imperative to test it before making your choice, because it clearly stands out from the rackets labeled as Soft offered by other competing brands.
The main strength of this racket therefore lies in its fast play, thanks to its maneuverability and its weight of 370 grams, as well as its raw power resulting from a fairly high balance. Smashes are executed with disconcerting ease, just like par 3s, provided you have a certain level of play, obviously.
The stability is extremely high, the racket offers a remarkable feeling of firmness when the opponent's shots are powerful and high.
Defensive situations remain somewhat tricky, mainly due to the racket's relatively high balance and limited ability to generate optimal ball release. However, in these crucial moments, the responsiveness of the frame takes over, providing an effective response during gaming actions where you find yourself under pressure.
Conclusion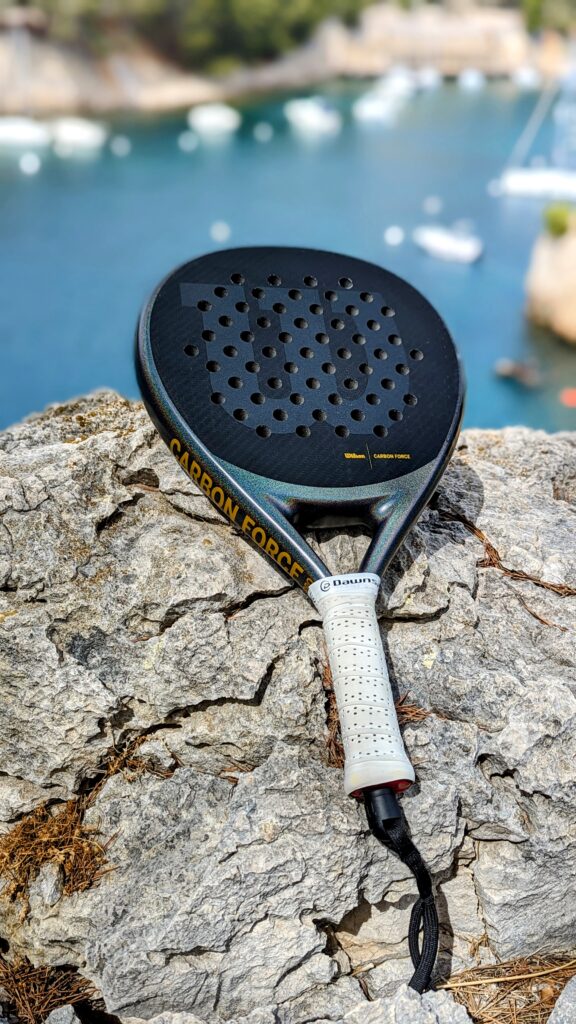 The Wilson Carbon Force Pro V.5 is an excellent racket that offers very good value for money. It is ideal for advanced players looking for a powerful and very stable model.
It is a versatile pala that lends itself particularly well to attack due to its high balance, its carbon construction and the relative responsiveness it imparts.
The sweet spot is generous, the handling satisfactory, but those looking for maximum power might instead opt for the Bela Pro series, although this involves a higher cost.
The Carbon Force Pro from Wilson is the heaviest variant of the recent Carbon Force series of racquets. There is also a lighter version, called LT, as well as a final one with fiberglass faces, offering greater forgiveness and a more affordable price.
I would like to express my gratitude to the Wilson brand for the trust it has placed in me.

Fan of padel, Stéphane has become the official tester of the planet padel in Europe. Everything goes through his expert hands. Thanks to his extensive experience in the snowshoeing world, he is able to scan your gear from head to toe!