In partnership with legend Fernando "Bela" Belasteguín, Wilson designed its very first signature shoe specifically for the padel. Until not so long ago, players of padel were content with tennis shoes. However, it is evident that the movements, surface and demands of this sport differ significantly from those of tennis.
The development team worked closely with Bela himself, spending a year and a half analyzing his movements to create an outsole perfectly suited to the needs of the "20 x 10".
A shoe designed with the legend
A careful analysis of movements specific to padel led to the creation of an appropriate sole, meeting the agility required for this sport. Bela was involved at every stage of development, contributing to the design and testing to ensure the shoe perfectly met his needs as well as those of football players. padel modern.
The surfaces of padel have evolved, particularly among professionals, with reduced use of sand on the surface. This is why Wilson developed the Bela Pro shoe, which offers excellent performance both on these new terrains and on traditional sandy surfaces. This shoe guarantees exceptional grip, quality cushioning and optimal comfort from the start, meeting the needs of professional players. padel the most demanding.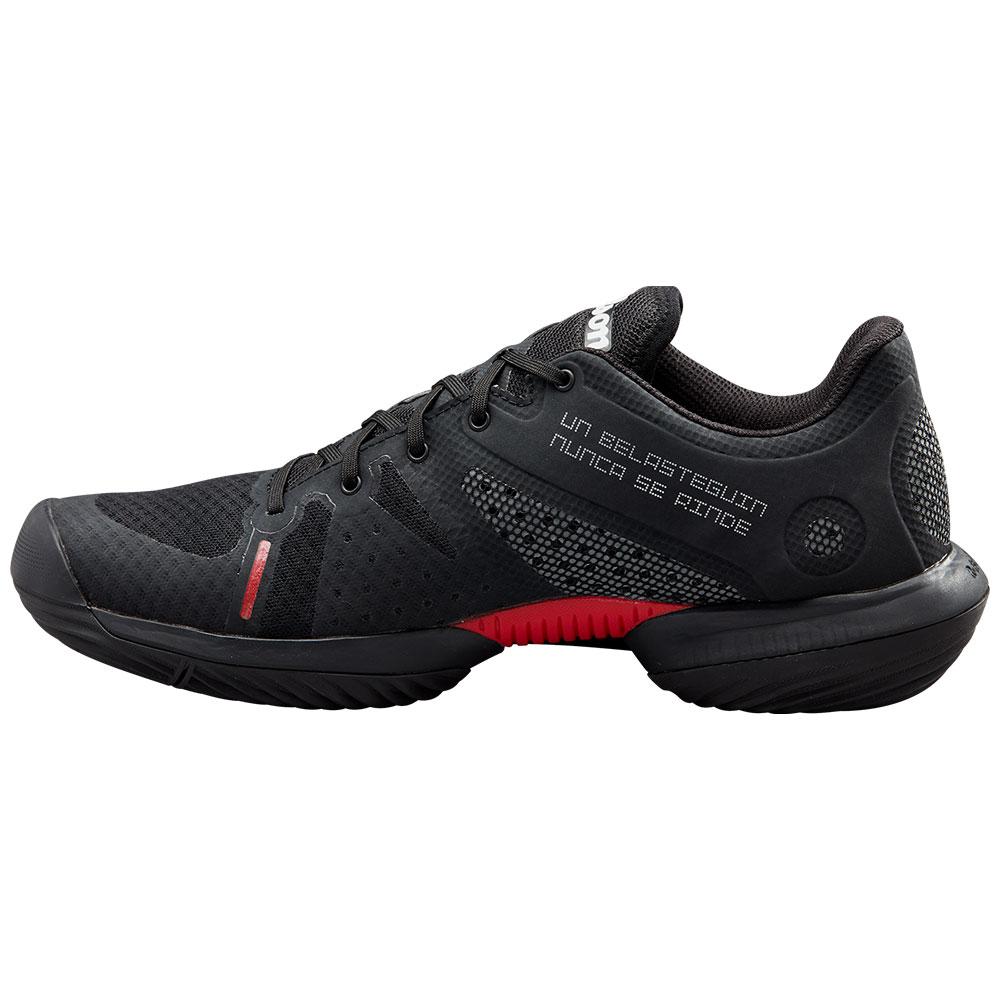 A jewel of technology
This pair of shoes is a technological gem, offering exceptional comfort thanks to its generous cushioning. This level of cushioning DF2 is obtained thanks to a heel-toe inclination of 9 mm, and a foam Ortholite high density.
To increase comfort, the American brand has integrated technology Sensifeel 2.0 in the upper part of the shoes. This technology is made up of thin layers with technical mesh, ensuring breathability that allows you to stay dry.
Le Kaos Chassis enhances the natural movement of the foot using two mechanisms: flexible arch support which improves agility, as well as lateral support which ensures both increased torsional control and overall stability. Additionally, the rubber outsole Duralast offers great resistance to friction, thus ensuring greater longevity and maximum adhesion on all surfaces. The midsole RDST+ offers an optimal combination of cushioning and rebound, enabling dynamic performance while providing additional cushioning to your feet.
Obviously, the outsole Optimum Grip is still in the game characterized by vortex patterns (in the shape of a circular swirl) on the forefoot and heel, offering total freedom of movement on the court.
The Bela Pro shoe uses certain technologies from the Hurakn 2.0 (Optimum Grip, ortholite, DF2, Duralast), but it also incorporates specific innovations.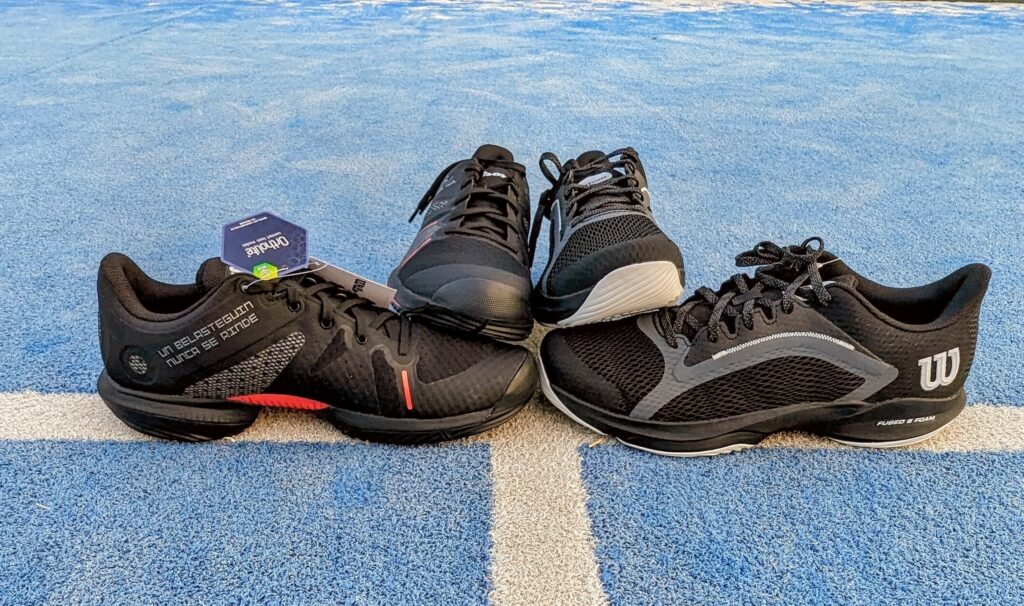 The Kaos Chassis
The famous Kaos Chassis that we saw above, developed by Wilson to improve the stability and support of running shoes. padel, is integrated into many of the brand's models, including the Bela Pro.
This technology consists of two frames (internal and external) which cooperate to provide a feeling of natural movement while reinforcing stability. The internal chassis is made from a lightweight, flexible material that adapts to the shape of the foot, providing optimal support for the arch. The external chassis, for its part, is made of a more rigid material, ensuring resistance to torsion and increased stability.
The Kaos Chassis is particularly useful for gamers. padel, because it provides the support and stability necessary to perform the rapid and explosive movements characteristic of this sport. Additionally, it helps prevent injuries by reducing the risk of ankle twisting and other foot injuries.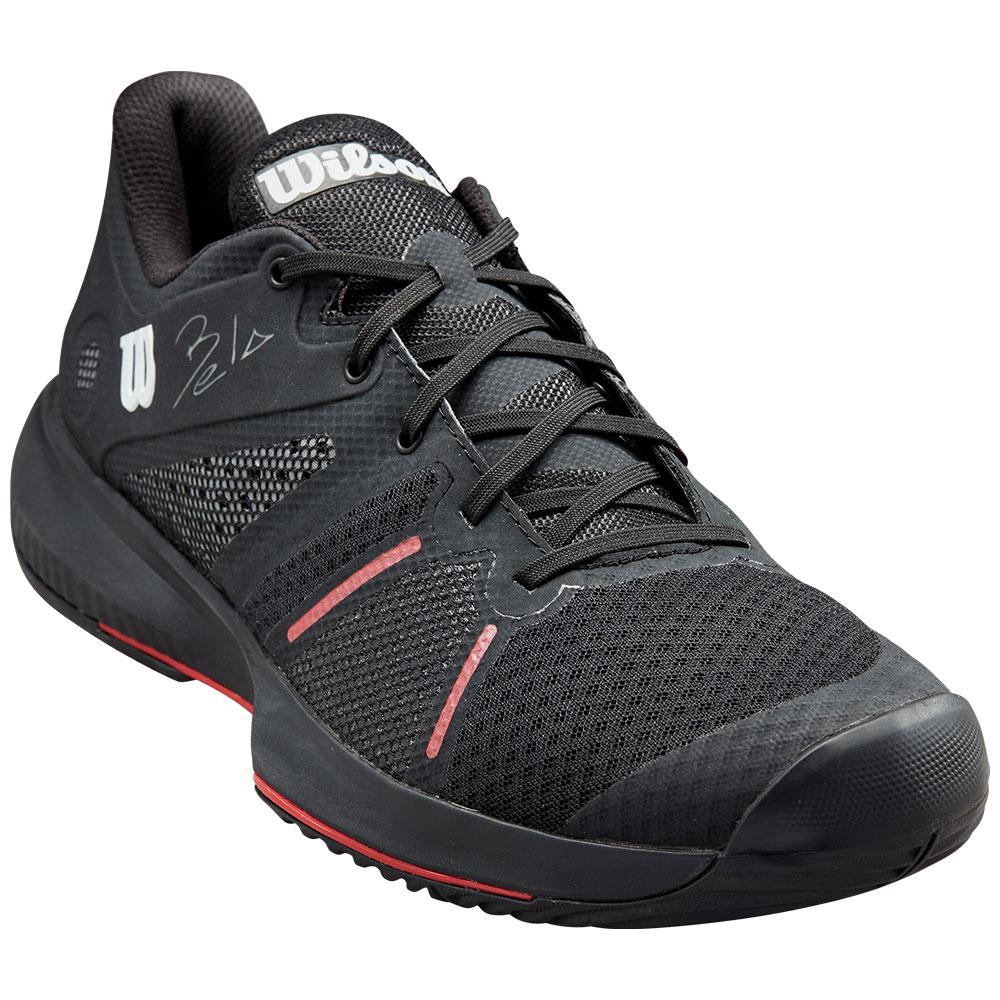 Sensifeel 2.0
Technology Sensifeel 2.0, also designed by Wilson, is integrated to improve the comfort and permeability of shoes padel. This technology is based on a rod made of mesh ultra-light and breathable, which adapts perfectly to the shape of the foot, thus providing optimal comfort. Its exceptional strength allows it to withstand the specific rigors of padel.
Here are some of the benefits of Sensifeel 2.0 technology:
1. Optimal comfort: the upper adapts perfectly to the shape of the foot, offering a feeling close to a second skin.
2. Maximum ventilation: thanks to the lightweight and breathable material, the foot remains cool and dry during play.
3. Strength and durability: The Sensifeel 2.0 upper is exceptionally strong and durable, allowing it to cope with the weather demands of outdoor sport.
4. Increased performance: The comfort and ventilation offered by Sensifeel 2.0 technology allows players to fully concentrate on their game, without having to worry about their shoes.
R-DST+ technology
Finally, technology R-DST+ is carefully integrated into the heel and forefoot of the shoe, providing exceptional cushioning by absorbing shock while providing an energetic rebound. This design relies on highly compressed EVA foam and aims to protect the feet from excessive impact while providing significant energy return, helping players improve their performance on the pitch. It is specially adapted to players of padel providing the cushioning and rebound essential to perform the ultra-dynamic movements characteristic of this sport.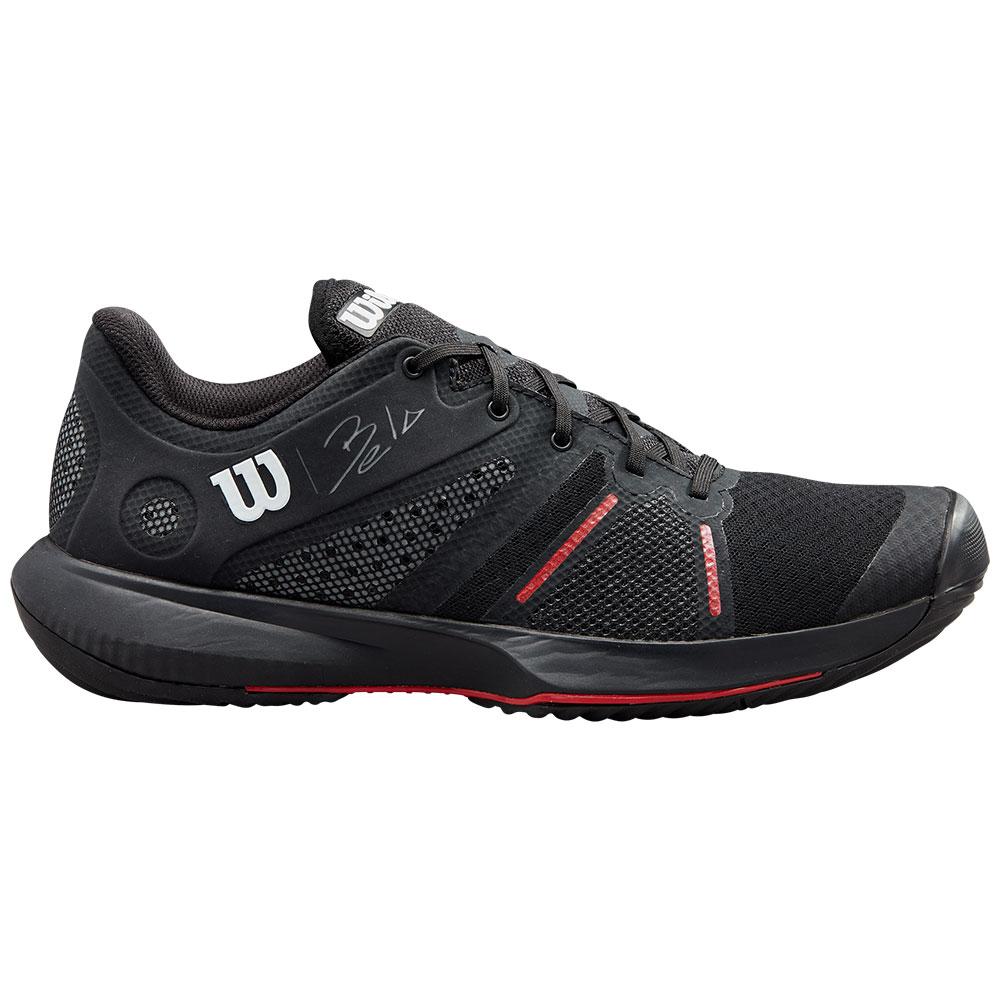 By absorbing shock during ground impacts, the R-DST+ allows players to padel to restart quickly, thus making them more explosive and reactive on the field. It also plays a vital role in injury prevention by reducing the risk of joint and muscle pain.
Here are some of the benefits of R-DST+ technology:
1. Exceptional cushioning: Highly compressed EVA foam absorbs shock during ground impacts, protecting joints.
2. Optimal rebound: The R-DST+ allows players to rebound quickly, increasing their explosiveness on the court.
3. Lightness and responsiveness: this light and responsive foam facilitates quick and agile movement on the ground.
4. Injury Prevention: The cushioning and rebound offered by the R-DST+ reduces the risk of joint and muscle pain, thus contributing to injury prevention.
Aesthetics close to perfection
This shoe impresses from the first glance with its elegant aesthetic and its remarkable lightness. Its entirely black design, enhanced with delicate red touches, is discreetly adorned with Bela's signature, accompanied by the legendary phrase that can also be found on the straps of the signature rackets: "a Belasteguin nunca rinses" (A Belasteguin never gives up.) Two vertical red lines adorn the upper portion of the shoe, echoing a red line between the midsole and outsole.
There is another shade that has its own distinct charm and is more showy. "Poppy red" is a bright, vibrant red, named after the poppy flower. This is a warm shade ideal for creating a bold and impactful style.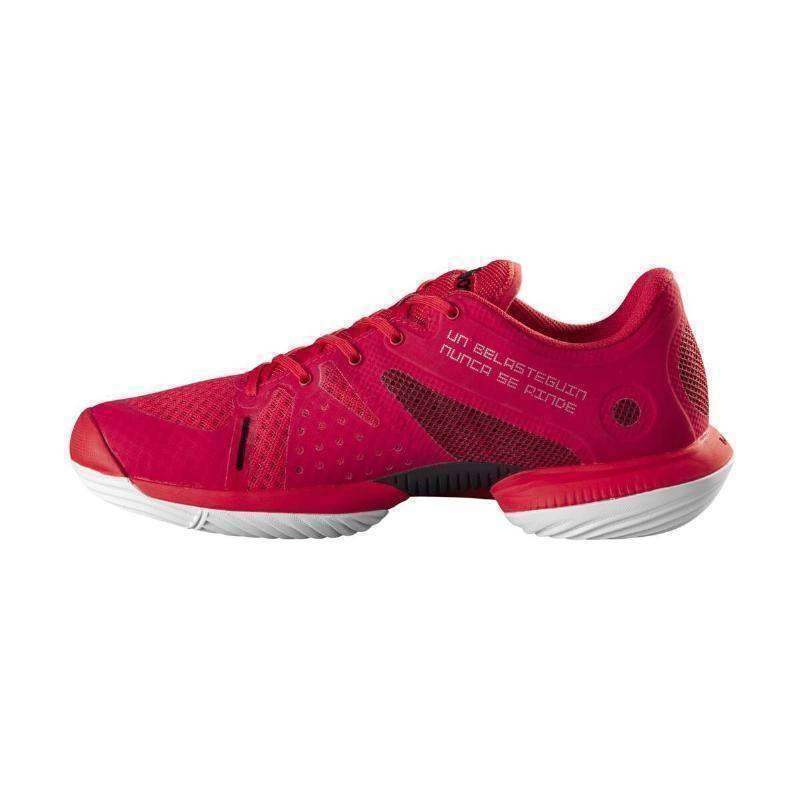 The fit is perfect. The laces fit well and the size is just right. My 44 fits perfectly, without any pressure points.
It is important to note that the sizing system offers precise adjustments with fractions of 2/3 for even sizes and 1/3 for odd sizes. This precision allows a perfect adjustment of the shoe to the length of the foot (from 36 to 49 1/3).
In the field
Once on the ground, you immediately understand that this is a model of exceptional quality. The Bela Pro stands out above all for its exceptional lightness, offering dynamics without the usual weight that can weigh down during exchanges.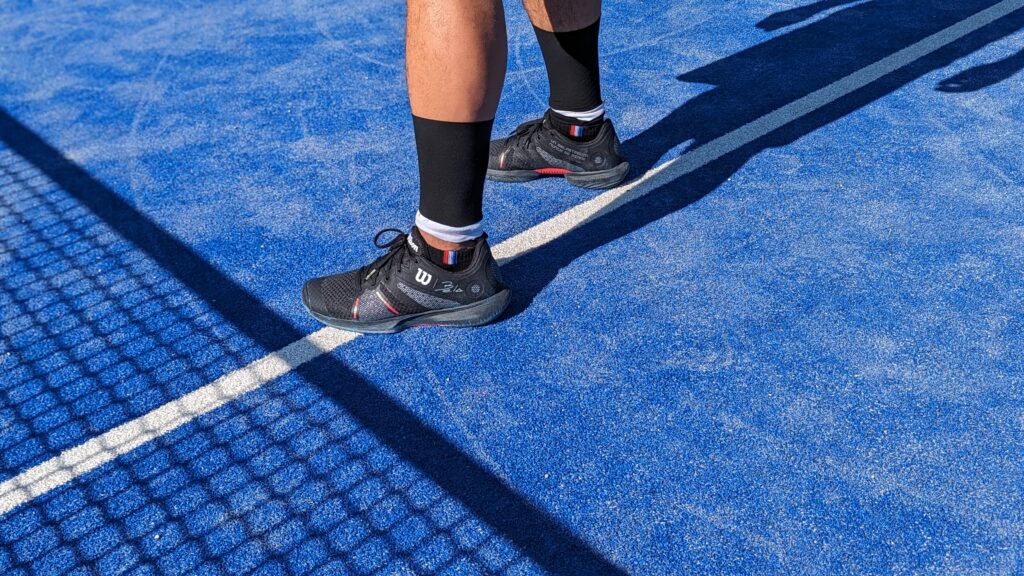 Despite this lightness, the shoe gives the impression of remarkable solidity, particularly at the level of the heel counter and the welts, which are particularly reinforced. The soles offer fantastic grip, ensuring excellent grip, especially during frequent rotations and changes of support.
In addition, it guarantees remarkable comfort and excellent ventilation thanks to its mesh, while offering optimal support thanks to an adjustable elastic tongue. The inner liner provides additional comfort by perfectly wrapping the ankle, and above all by limiting sand from penetrating inside the shoe. This prevents irritation from friction and also prevents sand from being brought home when you remove them.
Conclusion
Wilson has really made a big impact by creating a benchmark that combines comfort and performance. THE Hurakn 2.0 were already great, but the Bela Pro now surpasses them, offering the best of both worlds.
These shoes offer absolute comfort thanks to their upper in mesh light and breathable as well as their OrthoLite insole. On top of that, they ensure exceptional performance thanks to their Optimum Grip outsole and Kaos Chassis technology.
Even though they are slightly more expensive, the Bela Pro represents a justified investment for players looking for a shoe of padel top of the line. They offer an unrivaled level of comfort and performance, while bearing the signature of King Bela.
I have spent many hours exploring every aspect of this model, and I have to tell you that this reference is one of my three favorites. For me, comfort is essential in a shoe. padel, and the Bela Pro gave me precisely what I was looking for: optimal comfort and exceptional stability, holding the ankles firmly in place.
I wanted to express my gratitude to Wilson for sending me their latest collection of racquets and shoes, as well as to Sandra from Padel from Cassis and Régis from the Luminy club.


Fan of padel, Stéphane has become the official tester of the planet padel in Europe. Everything goes through his expert hands. Thanks to his extensive experience in the snowshoeing world, he is able to scan your gear from head to toe!