Wilson entered the footwear market padel by launching its first models exclusively dedicated to our sport around four years ago. Over the years, the range has expanded, incorporating new technologies and increasingly successful designs.
After snowshoes, shoes have become an essential element for optimal practice of padel, ensuring not only comfort, but also safety by avoiding injuries thanks to specific grip.
The key feature of a shoe padel quality lies in its outsole, specially designed to provide ideal traction and cushioning on tennis courts. padel. Indeed, the constant presence of a layer of sand, more or less fine on the grass, makes traction difficult, which makes it essential to have a sole capable of preventing slipping and allowing braking, we hope most. controlled possible.
Today we will focus on the model Hurakn 2.0 from Wilson which has been revisited and which incorporates the very latest technologies from the Chicago brand.
Wilson Hurakn 2.0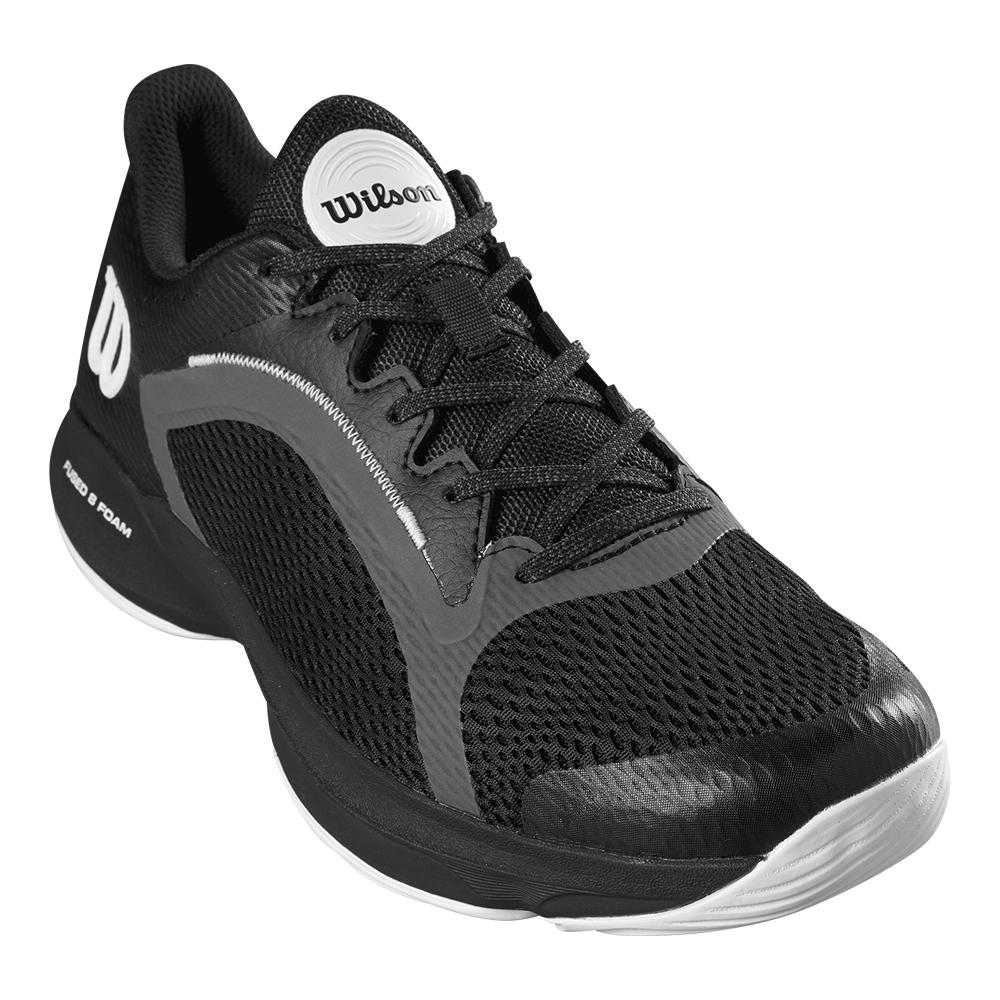 Shoes from padel Wilson have reached a new milestone with the evolution of the Hurakn range. This line combines elegance and performance, offering a very trendy style. Eco-friendly designed with clean soles padel, these models offer players of all levels a perfect blend of style, comfort and durability.
The new Hurakn 2.0 are designed with breathable materials to ensure good ventilation inside the liner, helping to keep feet dry during play.
This new version, light and dynamic, perfectly transcribes each of your movements. Its upper has been redesigned to reduce the weight of the shoe while maintaining excellent comfort.
As soon as we take them out of the box, we are struck by their lightness, announcing exceptional performance on the field! The laces fit perfectly, and the size is just right. My 44 fits perfectly, without any pressure points. The look is very chic, with an ebony black base and white details on the logo and reference.
It is essential to emphasize that the sizing system offers precise adjustments with fractions of 1/4 for even sizes and 3/4 for odd sizes. This precision allows a perfect adjustment of the shoe to the length of the foot.
The outsole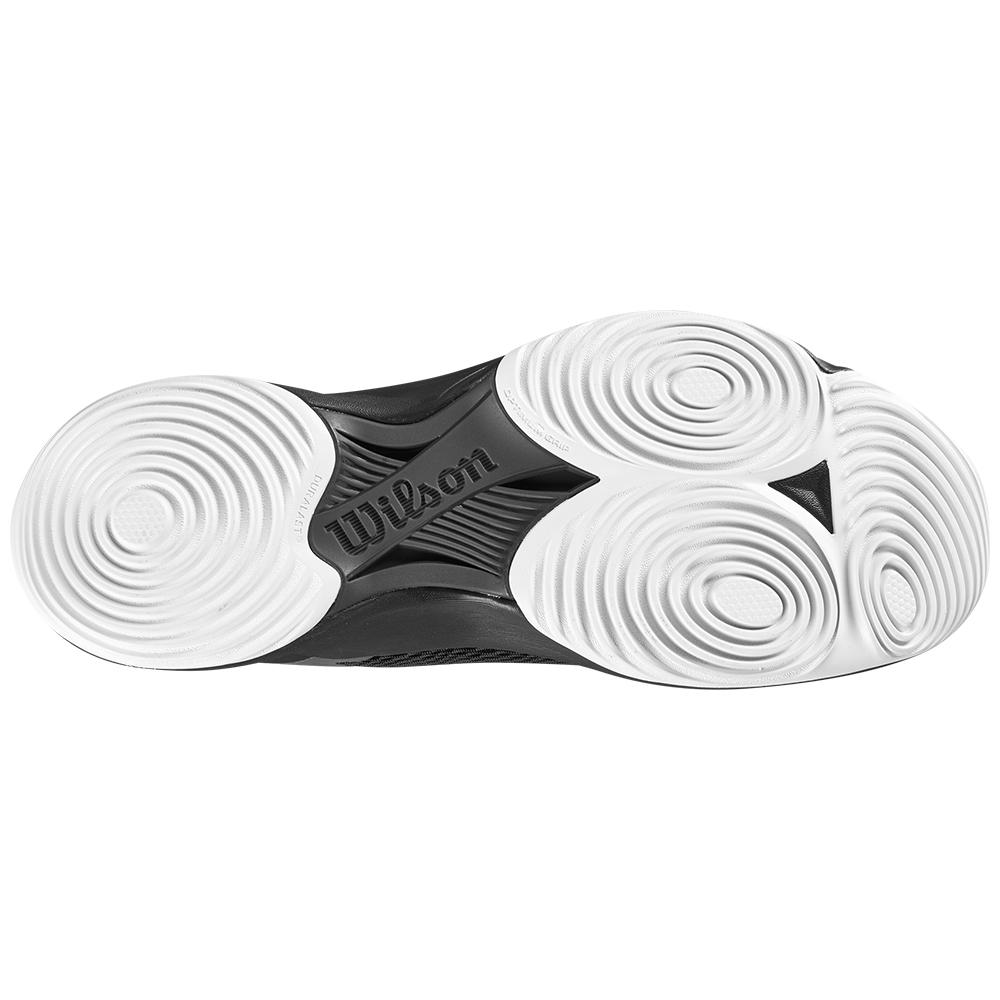 Now let's address the essential element that we look for in shoes. padel : the outsole.
There is a brand new technology called Optimum Grip, specially designed for padel, characterized by vortex patterns (in the shape of a circular swirl) on the forefoot and heel, offering total freedom of movement on the court. It is designed to provide maximum flexibility when traveling on terrain. padel. Its design has been redesigned taking inspiration from a cat's pads, featuring four distinct zones that facilitate the rotation essential to padel, while the central area ensures reinforced stability.
These outsoles are designed with specific patterns and materials to provide maximum grip on fine sand surfaces of tennis courts. padel. This allows players to maintain stability and avoid slipping during quick movements and changes of direction.
Since the padel is an intense sport with a lot of lateral movement, the soles are made from durable, abrasion-resistant materials. This ensures that they can withstand the constant wear and tear caused by friction with the pitch surface. The Optimum Grip is therefore coupled to the process Duralast, which represents an outsole technology designed to provide exceptional durability and unparalleled traction, meeting the demands of professional players and passionate amateurs alike.
This innovation is based on a high-density and durable rubber compound, resistant to abrasion and harsh weather conditions, ensuring long-term durability.
Midsole
Technology Pro Torque Chassis Light is a midsole innovation featured in several models of Wilson tennis shoes. It has been specially developed to offer players an optimal combination of stability, flexibility and speed. Made from a light and responsive material, it promotes the generation of power and propulsion. Additionally, the Pro Torque Chassis Light stands out for its unique arch design, ensuring exceptional support and stability during lateral movements.
This system is particularly appreciated because it offers several advantages:
Stability: It guarantees remarkable stability, a crucial element in preventing injuries and improving performance on the court.
Flexibility: It provides optimal flexibility, allowing players to move quickly and easily during gameplay.
Speed: Thanks to its lightness and responsiveness, the Pro Torque Chassis Light helps players efficiently generate power and propulsion, promoting faster and more agile movements.
Arch Support: The special arch design provides exceptional support during lateral movements, contributing to a more stable and confident performance on the court.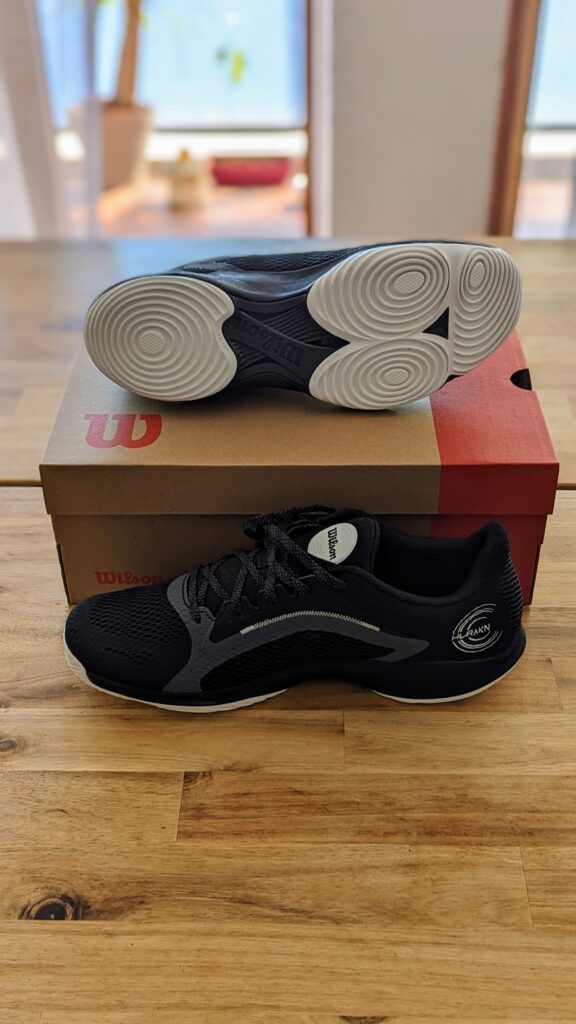 Lwith midsole Fused 8 Foam, composed of a certain percentage of recycled plastic fibers, is a combination of 8 different types of foam. This allows it to provide exceptional cushioning, comfort and recovery.
The midsole is located between the insole and the outsole of the shoes. Until now, this part was uniform across all shoes. However, it is increasingly evident that this component offers much broader characteristics and that its role is not limited simply to insulating the sole of the foot from the outsole.
This technology is integrated into various sports shoes, including running shoes. padel, offering several important advantages:
Cushioning and comfort: the blend of these 8 foams guarantees optimal cushioning and comfort, even during prolonged use.
Optimal recovery: This technology ensures ideal recovery, allowing players to move quickly and efficiently on the court.
Stability and Support: It provides ideal stability and support, reducing the risk of movement-related injuries on the field.
Durability: Fused 8 Foam is durable and maintains its performance over time, ensuring consistent longevity and reliability.
Insole
OrthoLite EVA BiDensity is an insole process developed by OrthoLite, comprising two layers of EVA of different densities.
This innovative design gives distinct characteristics to the product. The denser lower layer provides exceptional support and stability, while the less compact upper layer guarantees optimal cushioning and increased comfort. This technology is commonly used in shoes due to its exceptional durability and excellent breathability for the feet. OrthoLite EVA BiDensity technology, made of open-cell foam, allows for adequate airflow, keeping your feet cool and dry. It is also integrated into the insoles to provide additional cushioning and prevent blisters and other foot-related problems.
A perfect balance between cushioning, stability and responsiveness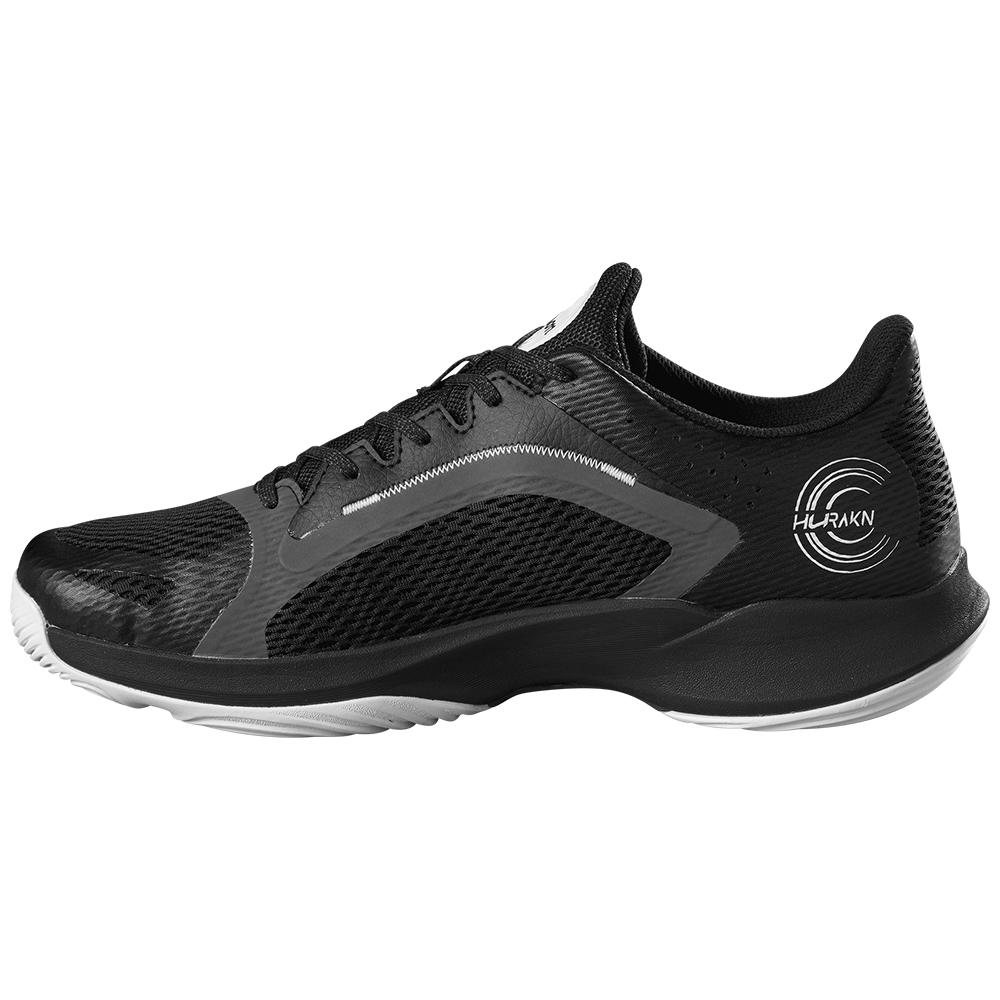 Le DF2 is a process developed by Wilson to offer players a perfect balance between cushioning, stability and responsiveness. This technology is integrated into several models of Wilson shoes, including the famous Rush and Kaos.
DF2 technology combines several essential design features. First of all, a drop of 9 mm, which represents the height difference between the heel and the forefoot of the shoe. This feature guarantees an optimal balance between cushioning and stability, providing essential support and guaranteed comfort. Next, it features a torsion system that allows the foot to move naturally while providing additional support during lateral movements.
In summary, Dynamic Fit-DF2 technology is designed to help gamers padel to perform at their best level. It helps reduce fatigue and the risk of injury, while providing superior stability and support during rapid changes of direction and jumps.
Conclusion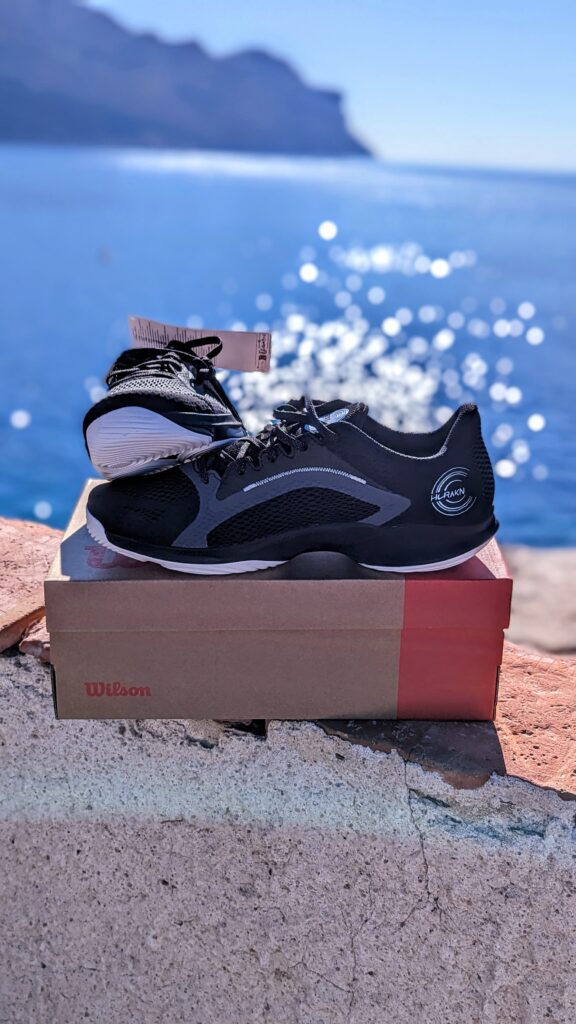 Shoes from padel Wilson Hurakn 2.0 are an excellent choice for players of all levels looking for a light and dynamic shoe with excellent cushioning and very good traction on the court. They are also comfortable and durable, making them ideal for gamers who want to play for long hours.
Quick reflexes are essential in this sport, and these lightweight shoes are the ideal option, as they offer optimal support while ensuring agility and comfort. To top it all off, these shoes padel, with their mesh upper part, will offer you constant well-being thanks to their breathable fabric covering, allowing you to stay dry in all situations.

Fan of padel, Stéphane has become the official tester of the planet padel in Europe. Everything goes through his expert hands. Thanks to his extensive experience in the snowshoeing world, he is able to scan your gear from head to toe!