Tecnifibre has enjoyed a solid reputation in the tennis and squash racquet industry for many years, thanks to the trust of iconic players such as Daniil Medvedev in tennis and Thierry Lincou in squash. More recently, the company strengthened its prestige by signing with Benjamin Tison, the French number 1 in padel, and our best representative on the international circuit.
Today, I am not going to focus on shoes or palas, but I am going to focus on an essential accessory for optimal practice of racquet sports: the bag.
A practical and ergonomic bag
The bag is a fundamental investment that takes the load off your mind logistically, and is essential for neatly carrying everything you need before, during and after a game. It breaks down as follows:
Ergonomic design : bags dedicated to padel are generally provided with padded and adjustable straps, making them easier to carry on the shoulder, back or by hand.
Durable materials: They are made from waterproof and wear-resistant materials, ensuring the bag lasts even in rainy weather or frequent use. Additionally, they are often padded to protect the rackets from impact and damage.
Organization: These bags are equipped with numerous compartments and pockets, offering players the possibility of storing their equipment and other accessories in a meticulous manner, thus avoiding any risk of loss or disorder. This arrangement makes it easier to store rackets, as the dimensions are ideal for racket palas. padel.
Storage: players can carry a change of clothes, a water bottle, towels, socks and other toiletries, keeping them safe from the wind and sand that might get in during games.
After this brief reminder, I will now tell you about the new bag offered by Tecnifibre.
Tecnifibre Endurance Tour: large capacity in a compact space
The 2023 version of this latest generation reference combines the functionality of a backpack with the practicality of a racquet bag, offering great practicality of use. It can be laid flat like a standard bag or held upright like a backpack. It includes two side compartments that can each accommodate 2 rackets. The central compartment is ideal for storing all your belongings and other accessories, as well as your phone thanks to the internal mesh pocket. A zipped pocket on the top allows you to keep your items safe and close at hand.
The transport mechanism offers a level of exceptional comfort thanks to foam-padded backpack straps and sewn-in shock-absorbing pads. It also benefits from the robust features of the Tour Endurance line, specially designed to withstand the extreme conditions of the professional circuit, ensuring maximum durability. In addition, a handle completes the carrying system, providing a better grip when the bag is in a vertical position. This model features two-way zippers, providing convenient opening and closing on both sides.
Tarpaulin fabric for better durability
It is made from tarpaulin fabric, appreciated for their durability, lightness and ability to withstand bad weather. Tarpaulin is a waterproof and difficult to tear textile, generally made of polyethylene (PE) or polyvinyl chloride (PVC). It finds its use in various applications, including protection against rain, wind and sun.
Tarpaulin is usually made from canvas coated with plastic, polyester, or other synthetic materials. These base materials are treated with special coatings, such as polymers or resins, to make them waterproof. Some types of tarpaulin are also reinforced with polyester fibers or other materials to increase their resistance to tearing and wear.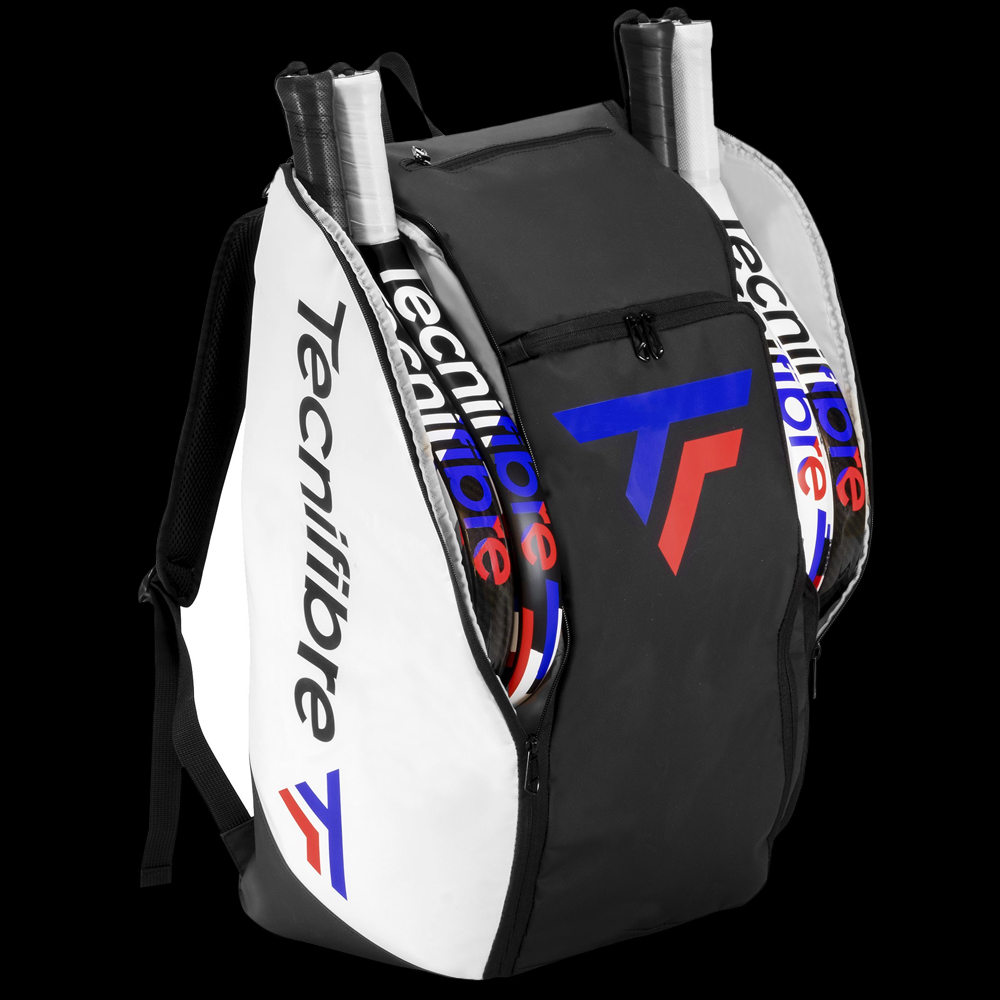 PE tarpaulin is the most common, being light, flexible and simple to produce. Conversely, PVC tarpaulin is stronger than PE and offers superior protection against UV rays. It is this variation, made up of 80%, which is used in the design of this superb bag (the remaining 20% ​​being polyester).
Its dimensions are 33 cm in width, 60 cm in height and 29 cm in depth. The top of the bag is black with the TF logo, while the sides are white, displaying the French company's name with touches of red, blue and black.
A bag with multiple storage areas
In terms of use, this bag has more compact dimensions than those of a standard bag, but it benefits optimal space layout thanks to very well thought-out compartments, allowing you to store more than just the essentials. The small net inside the central pocket is practical for slipping in a cell phone and viewing notifications without having to handle it. In addition, the small zippered pocket is ideal for storing keys, papers or small change to pay for the winners' beer.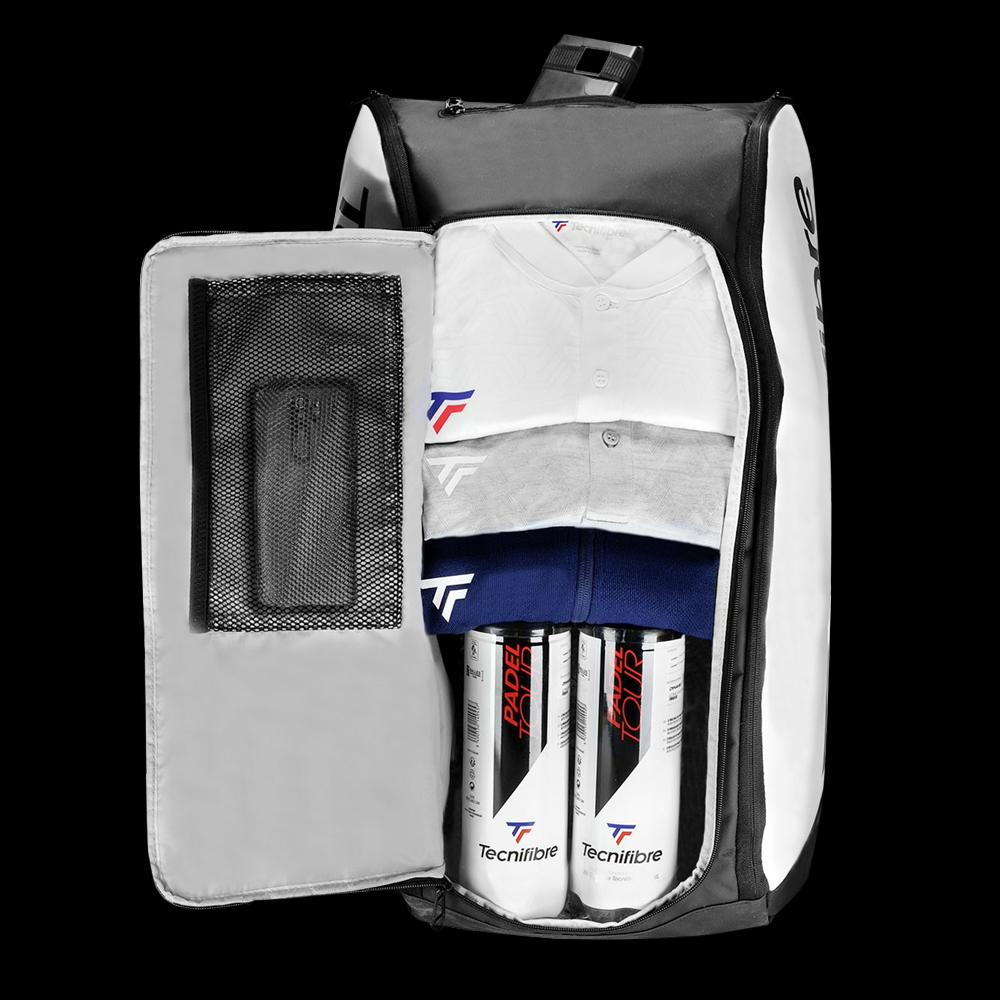 The two openings on the right and left ends can accommodate approximately two rackets each (but it is wiser to store only one), while the central opening is designed to hold all the essentials for playing tennis. padel, such as a change of clothes, balls, towel, water bottle, etc.
It should be noted that you have the possibility of rearranging the interior of the bag by placing your rackets in the central box and the rest of your belongings in the exterior compartments, but this is not the intended arrangement.
En conclusion
In summary, I consider this bag to be a very aesthetic option, offering a balanced alternative between the classic backpack, which has limited storage capacity, and the traditional bag, which is much more bulky and cumbersome. In addition, its tarpaulin construction guarantees robustness and durability, and the waterproof coating is very useful when it rains.
It is ingeniously designed, and as soon as you open it, you realize that no space is wasted. It offers the perfect volume for most players. padel, but may be a bit tight if you're planning a long tournament weekend. In this case there is the Tour Endurance Palatero, which has a ventilated compartment dedicated to shoes as well as additional space.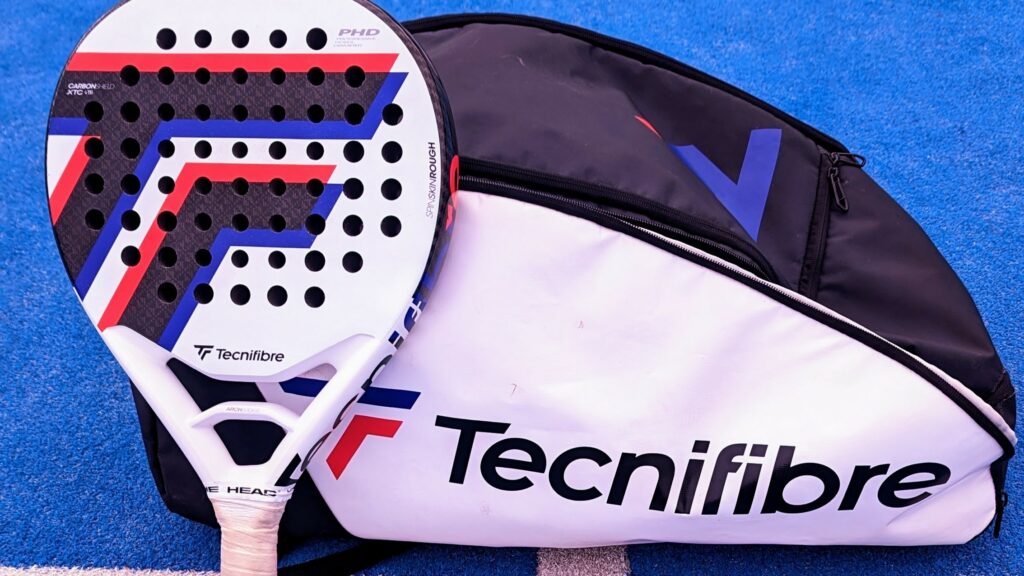 Sold for around €75, this model is sure to appeal to those looking for generous storage space while appreciating compact dimensions, an attractive design, and technologies guaranteeing exceptional durability.
Thank you to Tecnifibre for sending me this magnificent latest generation bag which is designed to last over time, as well as to Patrick Martin for sending me his latest shorts and t-shirt collection from the Bidi Badu brand.

Fan of padel, Stéphane has become the official tester of the planet padel in Europe. Everything goes through his expert hands. Thanks to his extensive experience in the snowshoeing world, he is able to scan your gear from head to toe!