Wilson introduced a new line of racquets called Accent in its product range, thus considerably expanding its offering for the year 2024.
The American company has definitively completed its catalog by adding this model which targets both beginners and people looking for comfort while wanting a touch of explosiveness.
After recently reviewed in detail the Wilson Carbon Force Pro V.5 racket, designed for experienced players, we will now take a look at this new pala which promises to be more suitable for a less experienced audience.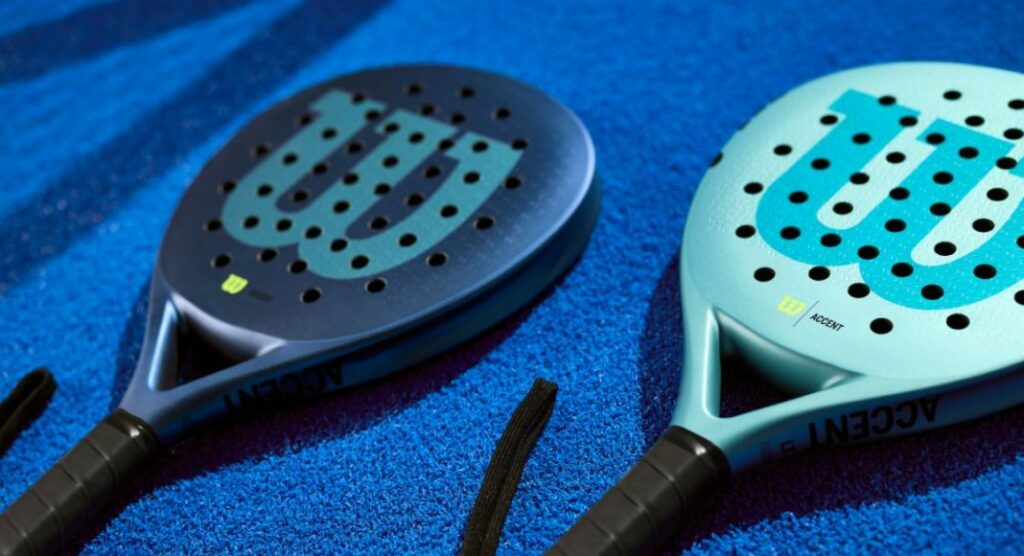 The Wilson Carbon Accent stripped down
As is often the case with Wilson products, there are clean lines and a minimalist design.
This racket is no exception to the rule and I find it particularly elegant with its blue and purple iridescent effect color which changes tone depending on the inclination.
The length of the Sublime Grip (which is very comfortable) is correct, and the handle is slightly larger than average. The latter incorporates recent technological innovations, notably a detachable wrist strap allowing extensive customization, as well as a tip Eco Butt Cap made from Agiplast plant-based plastic, an eco-friendly alternative.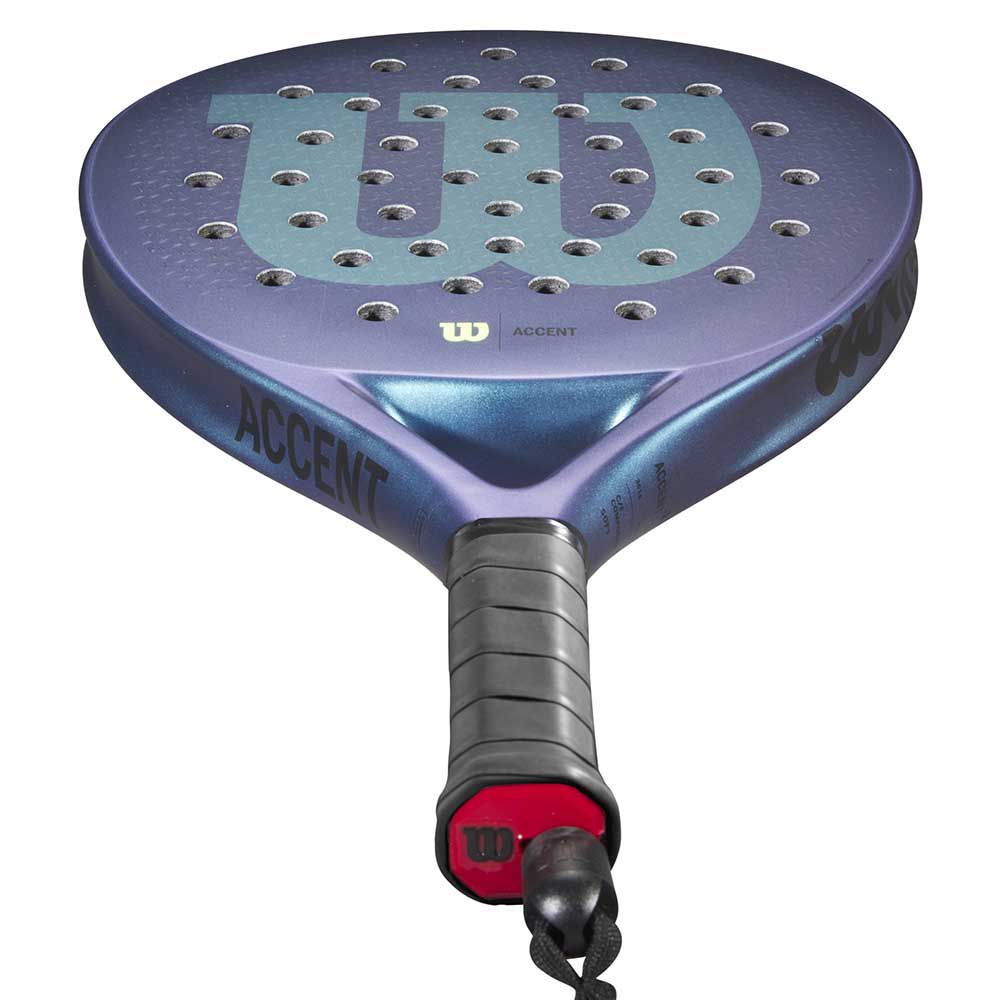 This new racket is designed for versatile play due to its teardrop shape, with a slightly overhead balance that reinforces shots while maintaining a certain forgiveness thanks to an enlarged sweet-spot.
Its carbon and fiberglass construction (frame and covering) offers a more elastic touch sensation, which improves playing comfort.
With a weight of 360 grams, it also offers excellent handling.
Its covering has a relief 3DFace which accentuates the ball effects. This is a design of the racket surface that has reliefs on the faces. These reliefs are designed to provide specific benefits to the player such as improved grip, spin or even aesthetics.
The Wilson Accent V. 1 racket offers versatile and flexible characteristics thanks to the use of its soft foam. In fact, the heart of the racket is made up of a rubber Eva Soft, recognized for its great elasticity and its ability to produce a rebound effect, what is commonly called "the trampoline effect". This provides a cushioned feel upon contact with the ball and excellent vibration absorption, providing protection for your arm and joints. It's a harmonious balance between comfort and ball release.
The racket's frame and cover are made from a blend of carbon and fiberglass, forming a Carbon Fiber Glass Composite. This combination gives the racket a lightweight feel while preserving elasticity and flexibility. It also provides the power needed for attack shots thanks to the strength of the carbon. This composite (hybrid) is a material made by combining carbon fibers and glass fibers in a resin matrix. A mix designed to exploit the advantages of both carbon fiber and fiberglass while minimizing their respective weaknesses.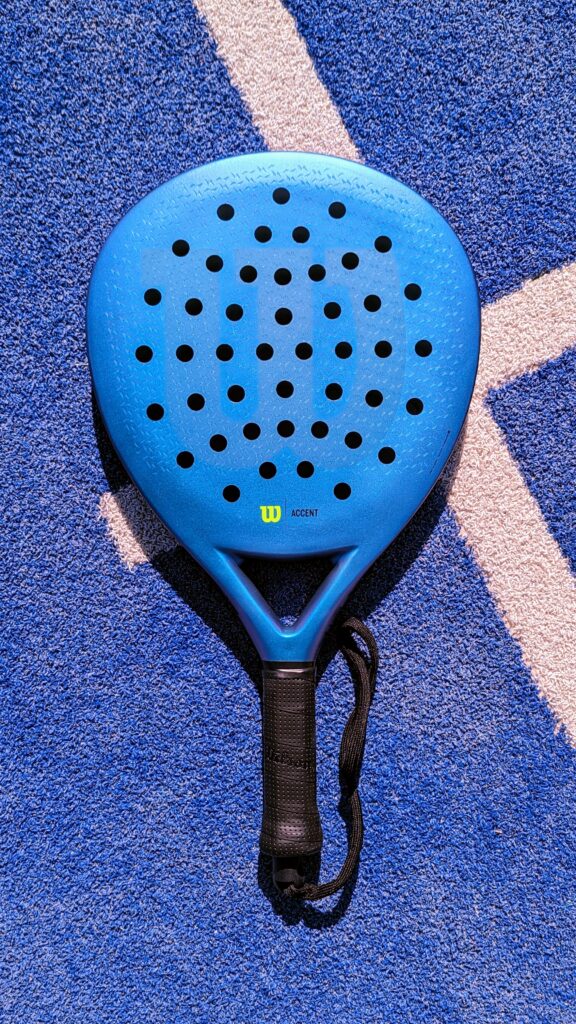 A carbon/fiberglass mixture
Carbon fiber : Carbon fiber is a lightweight, high-strength material composed of carbon atoms bonded together in a crystalline structure. It is known for its exceptional strength-to-weight ratio, rigidity and corrosion resistance. Carbon fiber is often used in applications where weight reduction and high strength are essential, such as aerospace, automotive or sailing.
Fiberglass construction : Fiberglass, a less expensive but heavier material, is characterized by its increased flexibility, which provides a more dynamic ball response. Due to its ability to flex, it is frequently used on the surface of the racket (and sometimes in the frame), which improves shock absorption and thus contributes to the prevention of possible tendinitis.
When these two materials are combined in a composite, we benefit from the characteristics of each of them.
Here are some benefits of a carbon fiber-glass composite:
Cost Effectiveness: Carbon fiber can be expensive, while fiberglass is relatively cheaper. Their combination can result in a cost-effective material with improved performance.
Weight Reduction: The carbon fiber component reduces weight, making the composite lighter than pure fiberglass alternatives.
Improved Strength and Rigidity: Carbon fibers provide increased strength and stiffness compared to fiberglass composites, making the material suitable for situations where structural integrity is crucial.
Flexibility and impact resistance: The fiberglass component can add flexibility and ball release, which can be advantageous in certain phases of play where carbon fiber alone might be too stiff.
Note that the specific characteristics of a carbon fiber and fiberglass composite can fluctuate depending on several factors, including the proportion of carbon fiber to fiberglass, the type of resin used, as well as the manufacturing process applied.
Infinity Edge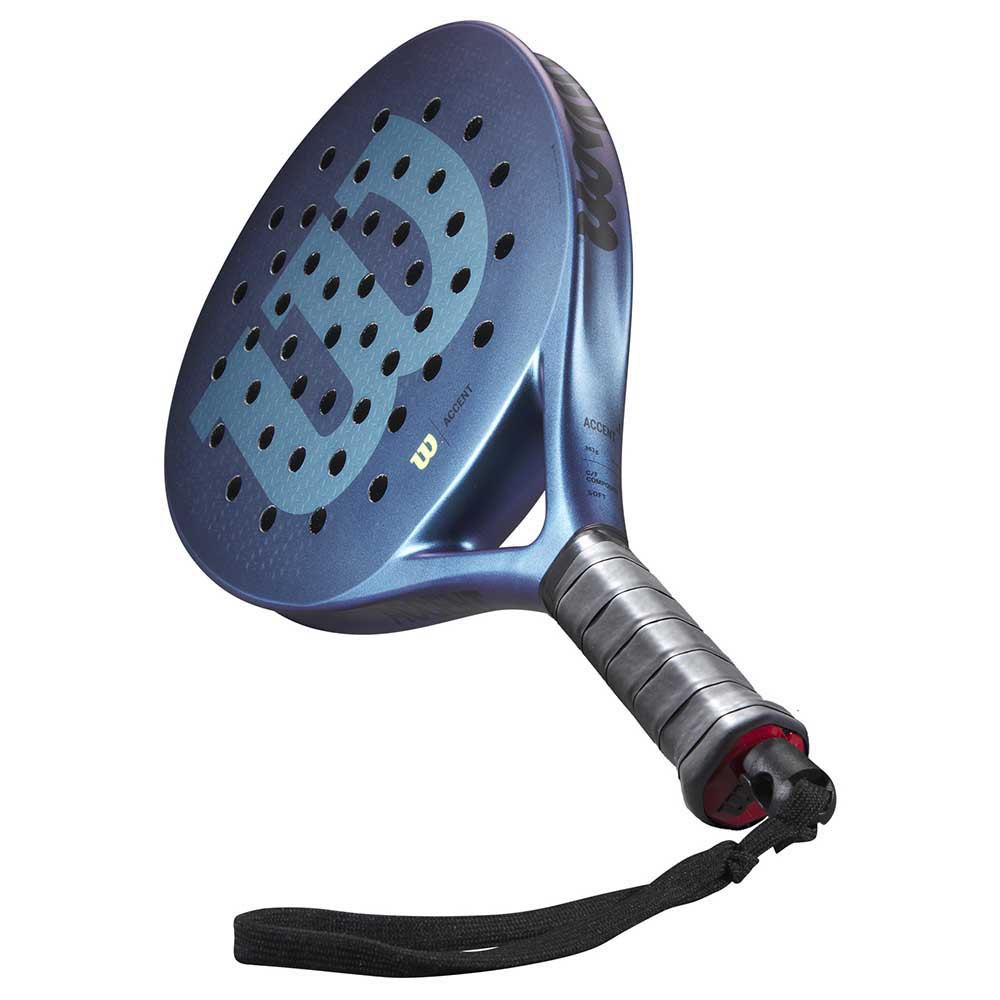 The second innovation that was implemented by Wilson concerns the Infitity Edge. The name "Infinity Edge" comes from the convex design of the frame which appears to extend indefinitely over the edges of the racquet, creating an extended sweetspot. The benefits of this technology include the following:
Strike Zone Expansion : the Infinity Edge widens the ideal hitting zone (sweet-spot) of the racket. This means that players have a better chance of hitting their shot, even if the ball doesn't hit the center perfectly. This helps reduce typing errors and improve shot consistency.
Power Increase : With an enlarged sweetspot, players can generate more power from their shots, even if they don't hit the exact center of the racket. This is particularly beneficial for those looking for more power without loss of control.
Vibration Attenuation : The Infinity Edge is also designed to minimize unwanted vibrations when typing. This feature helps prevent vibration-related injuries and improve playing comfort.
sharp hole
As you can notice, the perforation pattern differs from what is typically observed. This specific feature is found in some Wilson racquets and concerns the design as well as the arrangement of the holes on the surface of the racquet.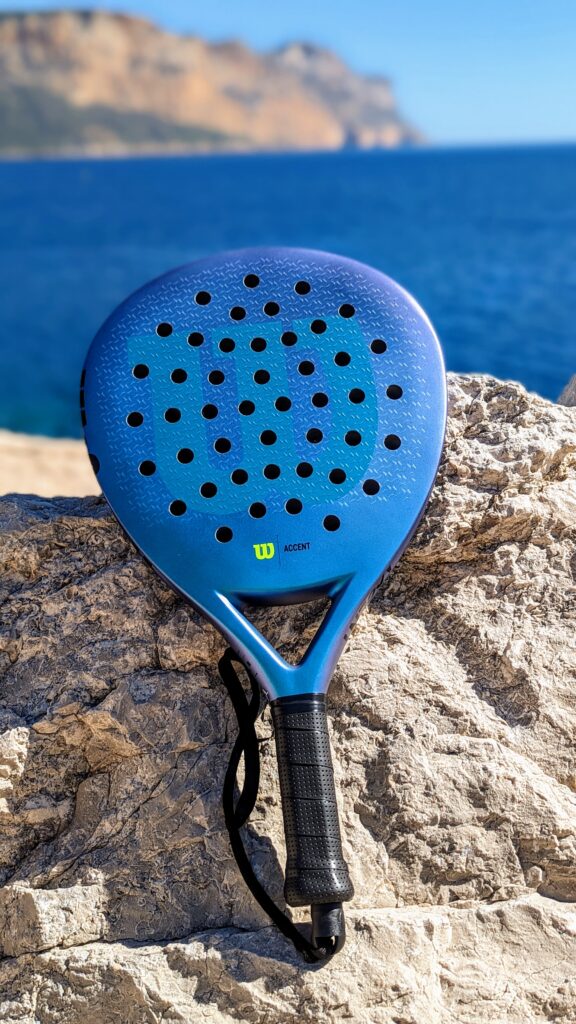 The objective of sharp hole is to optimize the striking surface of the racket, promoting better grip of the ball at the moment of impact.
The holes can allow for better control and precision in shots. They can also influence the way the racket reacts to the effects of the ball, especially in the case of cut or sliced ​​balls.
Stake
During play, this racket provides a very pleasant experience. It has impeccable balance and a very satisfactory ball exit thanks to the addition of fiberglass. This characteristic translates into great maneuverability, especially during fast phases of play, volleys and especially defensive phases.
Although the racket retains some raw power for smashes, it is important to note that this is not its main feature. Players looking for pure power will look more towards the Bela or Carbon Force Pro references.
Personally, I had a lot of fun playing with this racket, which has many advantages in terms of ease and comfort. It stands out from more specialized references which require constant concentration to obtain optimal performance with each shot.
Wilson's Accent Series, which is making its debut, was launched because of its ability to offer accessible power while ensuring optimal comfort.
This range thus proves to be the perfect choice for occasional players looking for power and comfort, but it is not limited to them. Indeed, the grip of this racket is so pleasant that I am convinced that it will also appeal to more experienced players who wish to return to a more moderate weight, on more tolerant rubbers and with very good maneuverability, which will allow them to perform much more complex shots than the models mentioned above allow.
Conclusion
At a price of less than €200, it is obvious that this racket padel is extremely attractive given the technologies it integrates, as well as its final performance.
In short, it is a user-friendly racket, slightly attack-oriented, perfectly suited to intermediate players looking to progress. There is an even lighter version of this racket (LT), where the only technical modification made was the replacement of fiberglass with fiberglass. full carbon.
I would like to express my gratitude to the Wilson teams for the trust they have shown in me by giving me the opportunity to test all their latest new products.

Fan of padel, Stéphane has become the official tester of the planet padel in Europe. Everything goes through his expert hands. Thanks to his extensive experience in the snowshoeing world, he is able to scan your gear from head to toe!