Still within the framework of Cupra Padel-Point Tour (House Padel), we conducted a large format interview with our two champions, Alix Collombon and Benjamin Tison.
"Happy to be part of the adventure with Cupra"
Padel Magazine : How is this association with Cupra going and what are your ambitions?
Alix Collombon : "We're not going to lie to each other, the cars are exceptional. We are very very happy, Ben has also driven a lot. Me a little less but we are delighted with the cars. As far as the partnership is concerned, we hope it's for the long term, Cupra is already invested in the padel for many years and we feel that they are even more so today »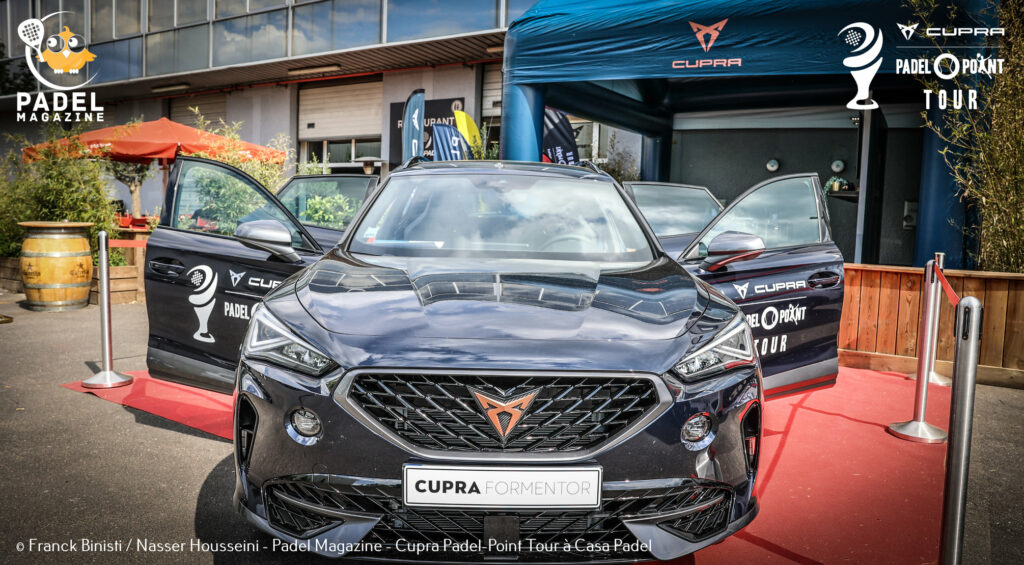 Ben Tison : "We are super happy with the partnership with Cupra, there is also a great team behind it all. It's a pleasure to come to this kind of event, and to represent Cupra. I think they invested at the beginning of the adventure padel and they will soon be rewarded because the padel this is madness in every country. Alix and I are really happy to be part of this adventure and we hope to give back to them in the best possible way. »
Padel Magazine : Alix, since you travel a lot, this boom in padel do you feel it? Do you talk about it with the players or even the fans?
Alix Collombon : "Yes, we really feel that, whether it's social networks, messages… There is more and more enthusiasm, more and more players. It's happening in more and more countries now. It's madness in Sweden, in Italy, when we are players we feel it a lot yes "
Alix: "The girls are now in a strong position"
Padel Magazine : With this busy schedule APT, WPT, Premier Padel…how do we do everything?
Ben Tison : "We pray not to be injured already (laughs). No it's a big year for the players, we are ready to make efforts for the good of the padel. I have to tell you that it feels like November when it's only April, I can feel it. Afterwards I feel privileged to do all these steps. Contrary to all the negative comments I have seen against Premier Padel : they are not anti feminine, they do not want to exclude women. There are big nonsense being said. »
Padel Magazine : Exactly for you Alix, is it possible that we see the women at Premier padel ?
Alix Collombon : "Most of us think it's the future. Now we are in a strong position right now, because the boys did things quickly. It's the first world riders who decided the fate of the padel male. We are trying to do things a little more calmly. It's true that we had somewhat complicated financial conditions, before we received three times less than the boys. Even if things have changed, we are now in a position of strength. Nasser wants the girls there, but the WPT has also improved the conditions for the players, so it's up to us to negotiate now. »
Ben Tison: "The World Padel Tour saw himself untouchable"
Padel Magazine : Can we say to ourselves that the WPT could have taken initiatives and listened to the players, rather than being in a wait-and-see position and having to copy the model proposed by the competition (type Premier padel)?
Ben Tison : "It's a game of supply and demand. The WPT played a lot, and as it was the leader they surely saw themselves untouchable. Now Nasser and QSI have arrived. Afterwards it's easy to say that they should have lined up and to know that there was Nasser, but it's not that easy. I think it's not only a problem of prize money, but rather around the condition of the players, the respect of the players. But I'm not aware of everything, and it's a lot of politics also.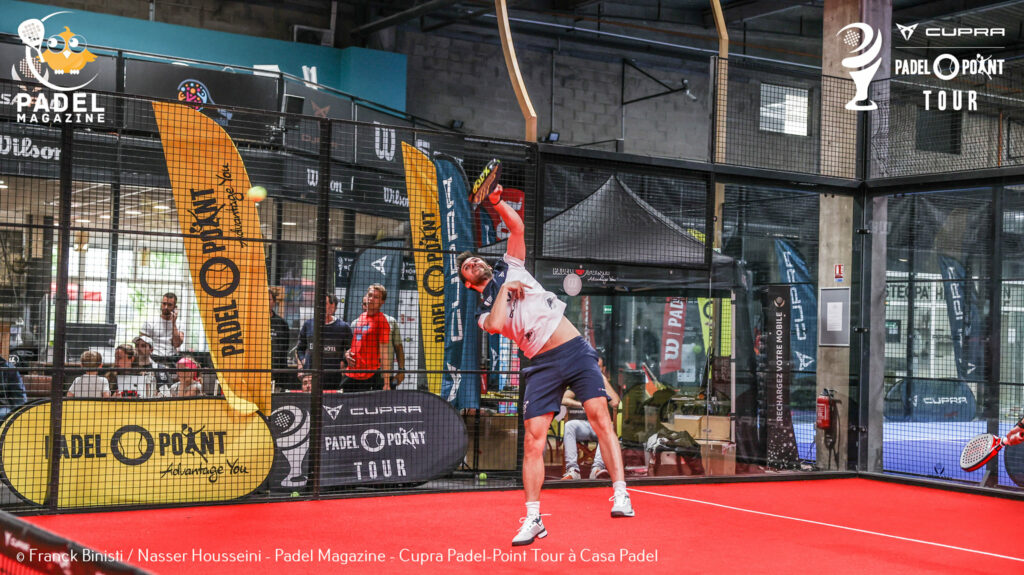 Today I see a lot of people saying "players go to QSI they have no respect for the WPT, all for the money". All that for the money, but the 30th in the world is obliged to give lessons to live. In terms of logistics it's much better, we will also be entitled to magnificent stages: Roland Garros, Rome. So it's not just for the money. It's not like the players went from 2 to 10 million. We go from not earning a lot of money to earning a little.
But hey, after there will be the WPT in Toulouse. The 1st WPT has been organized, it's going to be an incredible event, I advise you all to come and see Alix who will be in the semi-finals! »
Padel Magazine : I was also able to see on social networks that people were announcing a triumphant Alix Collombon in Toulouse.
Alix Collombon : "I hope those people are right (laughs). No, we know today how hard it is to get to the end of a tournament. Already I continue to improve and progress. Mentally I have passed a course. To believe that you can do it, to believe that you can go further, to believe that you can aim for the semi-finals, yes that changes a lot of things. For the moment I have been constantly progressing since I have been in Spain, each year the hopes are a little higher. Without pressure, I continue my way as I have been doing since the start. »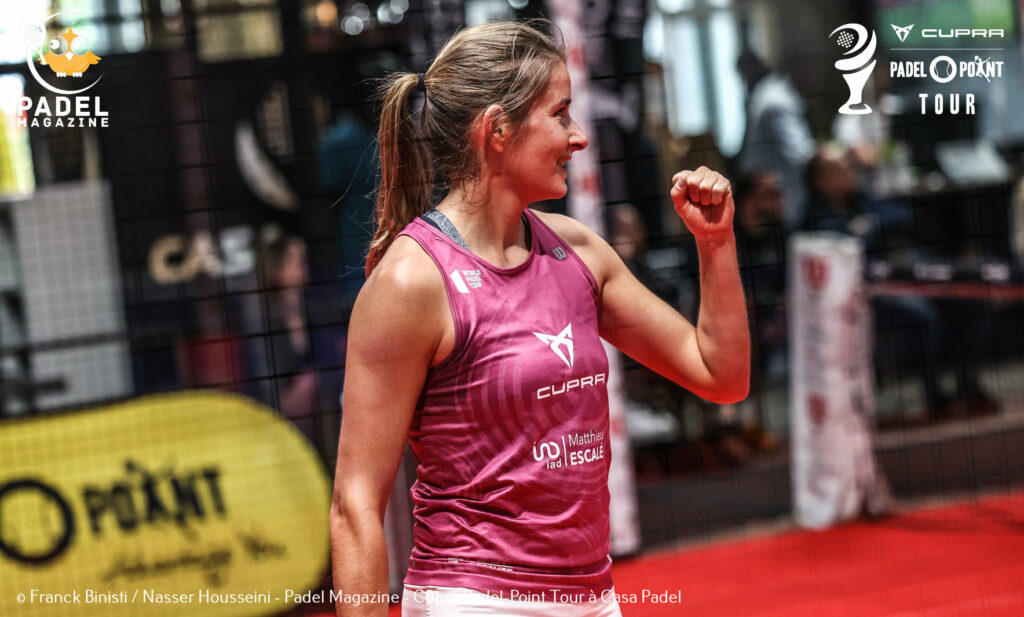 "The Leygue/Bergeron association, great news for the padel French"
Padel Magazine : Aren't you afraid to see Johan Bergeron play with Thomas Leygue, internationally?
Ben Tison : "No I'm not afraid, Jo asked my opinion and I encouraged him. He asked me if it bothered me in relation to France and I told him that there was no problem. For me Thomas is the future number 1, even if I intend to annoy him for a while longer trying to stay ahead but he will soon get there. Yes they are opponents in France, but we must not forget that we are all friends. We are all part of the France team and it is a good thing that there is a French pair internationally. I hope they will have fun together, but if they play against me I hope I will beat them. But I want them to go as far as possible. I think this association is great news for the padel French. »
Padel Magazine : When will an Alix play with another player than Léa Godallier on the French circuit?
Alix Collombon : "I understand that issue and that people would like there to be more fighting. Of course I am for the padel feminine is exploding, but I'm in a personal career too. And what is important for me is to win. Today I have a much better chance of winning with Léa than with another. If there is a player who arrives, very promising and that I feel that I can win the title of champion of France with her, we will see. But my goal is to win. »
Ben Tison : "If I may add, all the opponents who lose against Alix and Léa tell me 'it's incredible how humble they are to play hard each time and we are progressing thanks to them, it's great to play against they ". I think they advance the padel French while continuing to play together. »
To watch the full interview, go here:

Passionate about football, I discovered the padel in 2019. Since then, it's been crazy love with this sport to the point of abandoning my favorite sport.