First sensation on this quarter-final day at the Amsterdam Open, Aranzazu Osoro and Jessica Castello eliminated the Salazar/Araujo pair in 1h23 of play. Final score: 6/3 6/2.
Obviously this Amsterdam Open is full of surprises. With the elimination in the first round of Coello/Tapia, we already knew that we could expect anything. This morning, it was the Spanish-Argentinian pair Castello/Osoro who created a bit of a sensation.
Aranzazu and Jessica were opposed to the number 4 seed, Alejandra Salazar / Sofia Araujo. And the least we can say is that the outsiders will have handled their meeting well, in particular by managing the important points much better. In fact, they converted 50% of their break opportunities (4/8), when Salazar and Araujo only managed to take their opponents' serve once, out of nine occasions...
Argentina and Spain also won 4 of 6 points of gold, erasing three break points and destroying the hopes of Alejandra and Sofia.
Since their final in Finland, Salazar and Araujo have no longer managed to get past the quarter-finals. Should we be worried?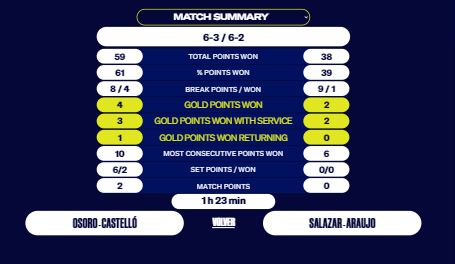 Aranzazu Osoro and Jessica Castello therefore offer their first semi-final as a pair this season. EThey will find Ari Sanchez and Paula Josemaria who have just got rid of Guinart/Navarro on the score of 7/5 6/0.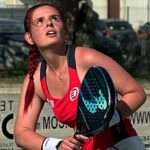 It was his brother who one day told him to accompany him on a track. padel, since then, Gwenaëlle has never left the court. Except when it comes to going to watch the broadcast of Padel Magazine, World Padel Tour… or Premier Padel…or the French Championships. In short, she is a fan of this sport.