On to the second men's quarter-final of this WPT Madrid Masters. For this meeting, the poster was very interesting because it opposed Martin Di Nenno / Franco Stupaczuk à Jorge "Cokie" Nieto / Jon Sanz. Despite the good results of the latter, the step is still a little high for the two Spaniards who, over the tournaments, seem to get along better and better on and off the track. However, it was not enough to stop the favorites of the meeting.
Sanz / Nieto takes control
Very motivated, the two young players entered the "cage" like two lions ready to bite their prey. Very offensive, they surprise their opponents, making them doubt in this first round. Unaccustomed to being mishandled, "los Superpibes" still tried something but without success, the latter not managing to put their game to good use. Madrilenian Nieto, who is playing at home this week, is buoyed by the encouragement of his family and intends to give everything to create the surprise of the day.
"Los Superpibes" take action
Revengeful and above all stung, the two Argentinians have not said their last word and return to the 20 x 10 with a knife between their teeth. Determined to pick up the score, "el chaqueño" and his partner stepped up the pace, leaving the two Spaniards on the sidelines. Strong and aggressive, they transformed the second round into a demonstration, leaving the audience speechless. The outcome of this meeting was therefore decided during a decisive third set, where each of the pairs was going to leave their skin on the track.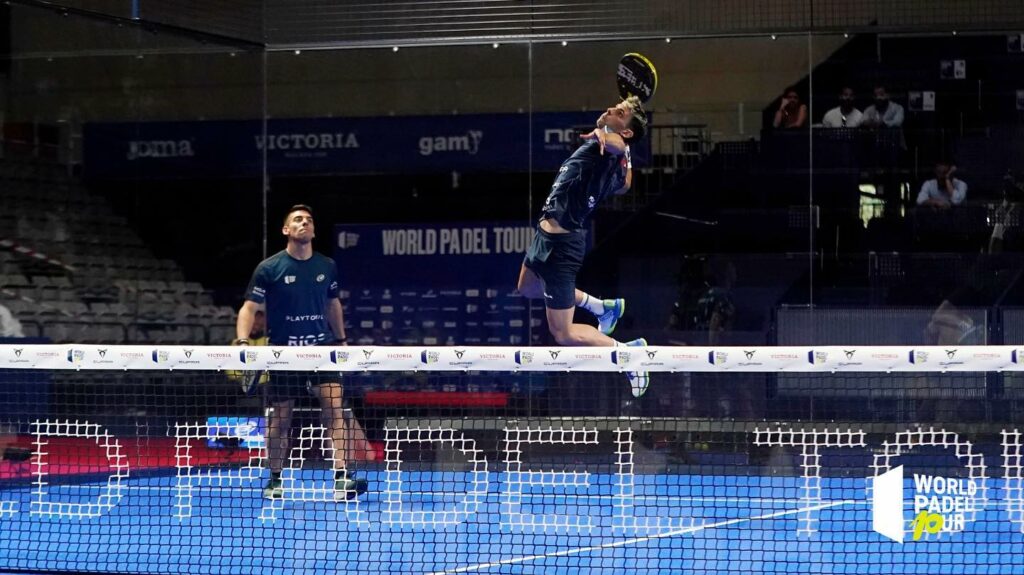 A fierce duel
For this last round, neither team intended to slow down. Neck to neck for most of this set, the quartet on the floor continued to go blow for blow, leaving doubt as to which team would emerge victorious from this encounter. While the Argentinians managed to lead 5/4, the two friends managed to slip into the breach, thus winning in the tenth and final game of the set. It was therefore after more than 2 hours 20 minutes of play that Franco Stupaczuk and Martin Di Nenno emerged victorious from this long and tough battle. They will thus find Paquito Navarro and Federico Chingotto, who atomized Momo Gonzalez and Javier Garrido a little earlier 6/4 - 6/0.
Final score: 3/6 - 6/1 - 6/4
The next match will pit Agustin and Sanyo Gutierrez against Maxi Sanchez and Lucho Capra and will be followed on the Canal+ group channels.

Future naturopath and passionate about padel, Seb is the health/food gentleman of Padel Magazine. He juggles between pala, quinoa and essential oils. For almost two years now he has been dealing with the news of the little yellow ball with the same passion.