We don't really know if it's a surprise anymore: Jessica Castello and Aranzazu Osoro reached the semi-finals for the second consecutive time. Like in Amsterdam, the number 6 seed surpassed Alejandra Salazar and Sofia Araujo (TS4). Castello and Osoro won 6/1 5/7 7/5 after more than 2h30 of combat.
Jessica Castello and Aranzazu Osoro had to redouble their efforts in this Amsterdam revenge. However, during the first set, the Spanish-Argentinian pair got off to a flying start, winning the set 6/1.
The Castello/Osoro pair maintained their rhythm and managed a break at the start of the second set. They even had the opportunity to serve for the match at 5/4. However, Alejandra Salazar and Sofia Araujo had not given up. They came up with the score, before winning the second set 7/5, thus adding more suspense for the spectators on court no. 2.
Difficult to predict who would win this meeting. The third set, extremely close, remained undecided until 5/5. It was at this moment that Zazu Osoro and Jess Castello made the decisive break, damaging the Spanish-Portuguese pair.
Second victory for Osoro and Castello against Salazar and Araujo and second semi-final in a row for the number 6 seed. Next match: Paula Josemaria – Ariana Sanchez, for a revenge of the Amsterdam half.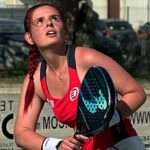 It was his brother who one day told him to accompany him on a track. padel, since then, Gwenaëlle has never left the court. Except when it comes to going to watch the broadcast of Padel Magazine, World Padel Tour… or Premier Padel…or the French Championships. In short, she is a fan of this sport.