This is one of the striking images of the WPT Sardegna Open: the strike of Juan Tello which will unfortunately lodge in the eye of his partner Fede Chingotto.
Fortunately these are images that do not often happen on a padel court. During the Sardegna Open quarter-final between Chingotto / Tello and Belasteguin / Tapia, Juan Tello comes out of the field to deliver a par 3 from Bela, sends an overpowering strike, which ends straight up ... in the eye of his partner ...
For those who haven't seen the action, it starts at 00:48 in the video below.
Video credit: World Padel Tour
While the start of the match was very balanced and we expected a lot of suspense, the meeting must have been interrupted at 2 everywhere. And even if "Super Ratón" showed a lot of courage in returning to the track, after a first set won by Bela / Tapia 7/5, Chingotto / Tello were finally forced to abandon.
The Argentinian gave his news last night in a Story on Instagram and he assures that his eye is already much better. For our greatest pleasure, we should see the two young Argentines in full possession of their means in Menorca.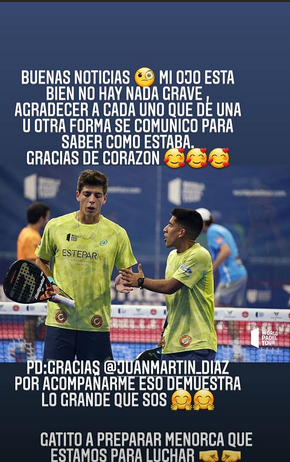 Photo credit: Instagram Fede Chingotto