Depuis quelques mois, nos meilleurs joueurs de padel français partent se tester sur le circuit professionnel du World Padel Tour. Focus sur la 1ère paire 100% française à vouloir s'immerger dans ce monde pro : Bastien Blanqué et Johan Bergeron.
Franck Binisti - Who had the idea to embark on this adventure?
Johan Bergeron - Bastien!
Bastien Blanqué – J'ai cette idée depuis plusieurs mois. J'en avais parlé à des amis sur Toulouse comme Alexis Salles ou Laurent Imbert. Et en décembre, j'appelle Johan et lui propose de tenter l'aventure avec moi en Espagne pour nous entraîner etc. A ce moment là, je signe chez Babolat. Frédéric Bertucat, le Directeur Babolat Padel me propose alors de venir m'entraîner au quartier général du padel madrilène : le Sanset Indoor. Le plus grand club indoor de padel au monde avec ses 32 pistes. Mais Johan me dit NON ! 4 jours plus tard il me rappelle pour me dire OUI !
What happened in the meantime?
Johan - At first, Bastien offered me. I said no direct. And then banal discussion with my mother in the car. "Why do not you leave Lyon? If I leave it is for the padel. Ba go!"
What is the program for you this year?
BB - The program promises to be sporty because we will follow a pre-season sports program at first with training sessions with Ramiro Choya, the famous coach of the second world pair Paquito Navarro / Sanyo Gutierrez. We will have at least an hour a day with him and then we will face very good players. And we will also enjoy the benefits of the physical trainer.
JB – L'énorme avantage de jouer au Sanset Indoor, c'est qu'il y a pléthore de joueurs de très bons niveaux. Ensuite, nous nous lancerons à la conquête du circuit madrilène de padel. Le circuit du World Padel Tour est dans notre viseur, mais il va falloir d'abord bien bosser pour se mettre à niveau.
BB - We see it now since 1 or 2 years, the French have for the moment never made good results on the professional circuit.
JB - We are talking about 6h daily training, participation in the professional circuit WORLD PADEL TOUR. Well it will obviously go through the box qualifications where it may be sporty. We will go to Gijon, Valencia, Barcelona, ​​Lisbon, Seville, Madrid, Valladolid etc.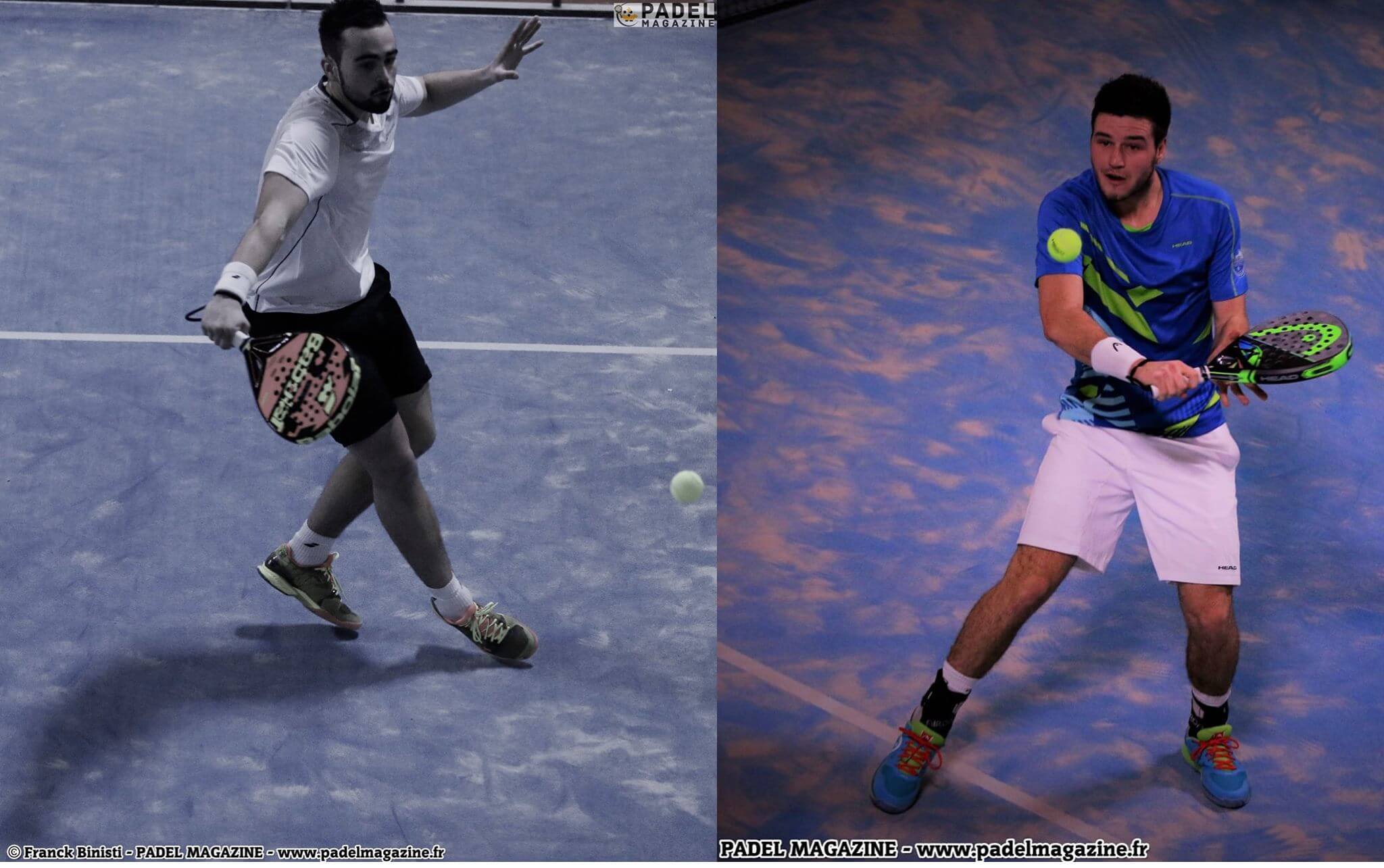 And on the French plan, you plan to come back?
BB - First of all there are the French paddle championships that we want to do. There will be regional, inter-regional and final phases next September.
Il y a également deux compétitions qui nous tiennent à coeur : le My Padel Tour, un circuit d'élite qui propose des P1000 un peu partout en France. Nous essaierons d'en faire le plus possible.
Puis il y a comme chaque année le rendez-vous fin octobre aux phases finales de la National Padel Cup (Où Bastien Blanqué a gagné à 2 reprises).
Your goal for this year?
JB – Le rêve serait d'atteindre le premier tour des phases finales d'une étape du World Padel Tour. Mais on sait que pour le moment, nous sommes encore très loin. Step by step comme on dit. Il faudra faire nos classes avant d'envisager d'aller plus loin.
BB - And we do not forget the championships of France padel. We give ourselves 2 years to win France. Even if we try this year to go as far as possible especially as the pair Scatena / Haziza no longer plays together, which opens the picture.
A year without pressure?
BB - Of course. First we are in an exceptional setting in Madrid. We can not consider better framework no? We will have the equipment and the right people to allow us to evolve. I want to thank Babolat for his confidence. A priori we will do the season from March to December. We will see the additional option for the following year. But difficult to talk about it now since we have not started yet.
JB – Nous avons beaucoup travaillé pour faire partie des 5 meilleurs joueurs français mais notre ambition ne s'arrête pas là. Nous sommes déterminés à montrer que 2 très jeunes joueurs français peuvent réussir sur le circuit professionnel mondial, le fameux « World Padel Tour ». Le soutien également pour ma part de la marque HEAD est également une très bonne chose.
Info +
It is missing 5.000 € to complete their year. And if you helped them?
https://www.sponsorise.me/fr/projet-top-100-world-padel-tour
Like their facebook page: https://www.facebook.com/JohanBastienPadel/
Player cards
Blanqué Bastien - 21 years old - Left player
French 4 number
5ème at the French Championship 2012
Participation in the 2012 World Championship at CANCUN
8ème with the France team
Vainqueur du Padel International Trophy 2013 à Gérone
Vainqueur de la National Padel Cup 2015 (Cap d'agde)
Vainqueur de la National Padel Cup 2016 (Cap d'agde)
Winner of the 2016 Greek International Tournament
Johan Bergeron - 23 years old - Right player
French 5 Number & 285 WPT
Participation in the 2015 / 2016 France Championships
Winners of 2 tournaments including the league championship
Pré-qualifs du World Padel Tour de Monte Carlo
Winner of a one-stop tournament of the Catalan Bronze Tour
½ Finalist of a Madrid Bronze Circuit Tournament

Franck Binisti discovers the padel at the Pyramid Club in 2009 in the Paris region. Since then padel is part of his life. You often see him touring France by going to cover the big French paddle events.