Even the fastest man in history could not escape the fervor of padel. Usain Bolt recently appeared on his social networks on a track of padel alongside former high-level Jamaican athletes. It only took one word from the multiple Olympic medalist to ignite the world of padel.
If some players, like a certain Mike Yanguas, left a little comment under Usain Bolt's publication, the Premier Padel didn't miss this photo. A little call from the circuit?

Usain Bolt is part of the long list of public figures become fans of our sport. "Lightning Bolt"'s new interest in padel will offer new visibility to our sport.
Icon of the 2024 Olympic Games, could Usain Bolt give a boost to the padel and help him in his dream of becoming an Olympic sport? Stay tuned…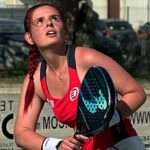 It was his brother who one day told him to accompany him on a track. padel, since then, Gwenaëlle has never left the court. Except when it comes to going to watch the broadcast of Padel Magazine, World Padel Tour… or Premier Padel…or the French Championships. In short, she is a fan of this sport.