The scene takes place during the quarter-final of the World Padel Tour Madrid Master between Stupa/Di Nenno and Nieto/Sanz.
Franco Stupaczuk makes a very long lob on Jon Sanz, which seems perfect at first glance: but the rebound displays an angle less than the famous 45 degrees and propels the ball very far from the glass, beyond the service line. Convinced that this lob first hit the glass, the Spaniard stops the point and does not play the ball.
Unfortunately for him, the fox Foxtenn of the video review system grants the point to the Argentines. Very angry even before the final decision, Jon Sanz waxes lyrical: "Es una puta mierda! a puta mierda! As the sea is good for me, I am warm!" (in polite summary, "if this one is good, I'll be a disaster…").
But for video refereeing, it only takes a few ball hairs hitting the carpet first to go against what seems obvious to the human eye.
Once the decision fell in their favor, Martin Di Nenno and Franco Stupaczuk displayed a very crooked smile (see below), which clearly shows that they consider themselves very happy to win this point. Just as Carlos Pozzoni's players are happy to have escaped from this trap match in which the report can be read HERE.
La sentida lírica de Jon Sanz hacia Foxtenn

Is a pvta mierda! a pvta mierda! How the sea is good for me!

The sonrisas accomplices of Martin and Franco that speak perfectly of what goes to the theme#MadridMaster #JonSanz #DiNenno #Coki #Stupa pic.twitter.com/Txqpy8KcHU

— Out Of Context Padel (@ocpadel) September 22, 2023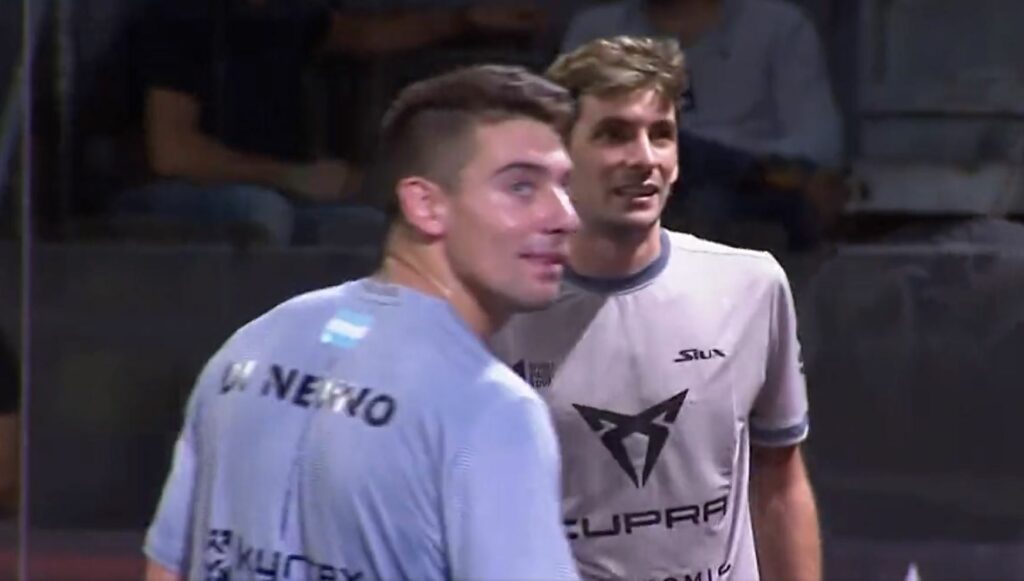 After 40 years of tennis, Jérôme falls into the pot of padel in 2018. Since then, he thinks about it every morning while shaving… but never shaves pala in hand! Journalist in Alsace, he has no other ambition than to share his passion with you, whether you speak French, Italian, Spanish or English.