The controversies over the height of the service rage at the end of the season, and the World Padel Tour Malmö Open is not exempt from this scourge. This time it is the service of Franco Stupaczuk which was scrutinized very closely. And the referee's decision is likely to be talked about for a little while longer...
A little context: we are in the first set between Stupaczuk/Di Nenno and Garrido/Gonzalez. In the tie-break of this extremely tight first round, the decisive tie-break was just as tight. Set point for Superpibes, on Stupa's serve. The latter serves, and Momo Gonzalez immediately stops the point, signaling that his opponent's serve is too high.
Robo referee
Momo pide altura de Stupa con point de set en contra.
All the world is clear when the reviewer decides: The ball is good.
Garrido y Momo pierden el set y entran en barrena

Así became a party#MalmoOpen #Momo #Garrido #Stupa #DiNenno pic.twitter.com/Fh0JBy8F8H

— Out Of Context Padel (@ocpadel) November 10, 2023
In replays, Stupaczuk's shot appears above the hip. However, the referee announces very clearly: "the ball is good". The set is won by superpibes. On site, the incomprehension is total. Momo Gonzalez castigates, Javi Garrido laughs. The set is lost and so is the match. 6/0 in the second set, the pair of players on the left seem completely out of their meeting.
This controversy will remain. This arbitral decision is already characterized as "vol". It follows the latest controversies between Paquito and Alex Ruiz. This time, the referee's choice comes at the worst time for the Garrido/Gonzalez pair.
After the latest controversy in Amsterdam, we asked you the question: lAre the referees right to be more severe? And an overwhelming majority of you felt that the referees should be stricter. Apparently, that was not the case at this Malmö Open."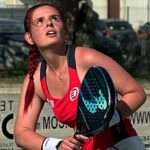 It was his brother who one day told him to accompany him on a track. padel, since then, Gwenaëlle has never left the court. Except when it comes to going to watch the broadcast of Padel Magazine, World Padel Tour… or Premier Padel…or the French Championships. In short, she is a fan of this sport.