Did you know that subscribing to Padel Magazine allows you to save money on your next purchases padel ? Membership Padel Magazine and contribute to the development of your magazine!
In addition to supporting the site, you will be able to benefit from numerous discounts at our partner sites, with discounts ranging from 5 to 15%. Something to please yourself by buying the pala of your dreams at a reduced price!
By becoming a member, you will only have to go to this page where you find all the codes necessary to save money on your next purchases.
Among the partner sites of Padel Magazine, you will find: Mind Padel Go to Shop, Extreme Padel, French Padel Go to Shop, Padel References, Padel XP, Racket Padel, Total Padel.
You can stock up on great deals and equip yourself from head to toe!
And in addition to benefiting from numerous advantages on the websites, you will be able to obtain discount vouchers at our partner clubs, with spontaneous offers, all year round!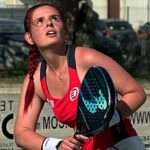 It was his brother who one day told him to accompany him on a track. padel, since then, Gwenaëlle has never left the court. Except when it comes to going to watch the broadcast of Padel Magazine, World Padel Tour… or Premier Padel…or the French Championships. In short, she is a fan of this sport.