Find the results, the direct and all the information relating to the FIP Gold from Perpignan, the first tournament of its kind in France. The main draw matches begin this Wednesday, June 22, 2022. The semi-finals and final will be played on Sunday 26.
Friday 17:22 p.m. – Gil/Gaspar mentally
What can I say about this match, except that it is undoubtedly one of the best matches of the week. If Acosta and Montiel had won the first round by inflaming the public, with their aggressiveness and their pugnacity, Diego Gil and José Carlos Gaspar did not let themselves be defeated. Revengeful and much more skilful, the duo raised their level of play when necessary.
Opposite even if Montiel and Acosta gave everything to put their health in danger (the match was interrupted following cramps and cries of pain that followed from Valentino Acosta), it was not enough against seeded number 5 in this tournament.
Final score: Acosta/Montiel 3-6 6-4 6-4
Friday 15:12 p.m. – Pedro Vera/Aitor Garcia in control!
In a relatively unbalanced match on paper, we finally had the right to a rather disputed poster. However, the Vera / Garcia pair asserted their status as favorites in the meeting and managed the meeting perfectly despite short moments of absence, which did not benefit Javi Navarro and Christian Medina and who will ultimately remain without result.
Final score: Vera/Garcia 6-3 6-4
Friday 13:48 p.m.: Carlos Pérez and Emiliano Iriart impose their law
Facing the 100% French pair made up of Dylan Guichard and Ludovic Cancel, the Italian-Spanish pair knew how to show composure in key moments in a match that could easily have been played best of 3 sets. End of the course for the Guichard/Cancel pair, which will have had a very good match against a pair much better ranked than them in the ranking, but which bodes well for the rest of the French season.
Final score: Pérez/Iriart 6-4 6-4
Friday 12:17 p.m. – The first qualified for the quarterfinals are: Suescun and Garcia
With an iron fist, Nicolas Suescun and Cristobal Garcia were able to enforce logic by taking the best of Albert Carmona and Alberto Sese, who arrived with the status of outsiders in this part. The Suescun / Garcia pair slips into quarters.
Final score: Suescun/Garcia 6-3 6-3
Friday 10:00 a.m. – The program for the round of XNUMX
Thursday 23:00 p.m. – Summary of the day
Thursday 21:48 p.m. – Ramirez and Vilarino impose their law
If on paper the proposed poster tended towards an easy victory for the favorites, it was not the case. The 4 players will have given us a magnificent show with many superb points that will have delighted the fans. However, Ramirez and Vilarino after winning the first set quite easily, surely did not expect to have to whip until the tie-break in the second set to win the victory. Gasca and Nieto didn't let go from the first to the last point despite the big gap between the two pairs, but unfortunately for them the step was still too high this evening.
Final score: Ramirez/Vilarino 6-2 7-6
Thursday 20:30 p.m. – Bergeron and Leygue retire
Thursday 19:37 p.m. – Tison/Zapata without forcing
Opposed to the pair Pellicer / Campana who came with the status of Lucky Loser in this main draw, the duo Tison / Zapata wanted to respect their opponents despite the impressive difference in level.
Final score: Tison/Zapata 6-0 6-0
Thursday 18:43 p.m. – Garcia/Suescun in pain
Stronger on the length, the pair Garcia / Suescun showed extraordinary fighting spirit to hang on after the loss of the first set and finally turn the tide against the pair Jones / Martinez.
Final score: Garcia/Suescun 5-7 1-6 6-2
Thursday 16:14 p.m. – No time to lose for Vera/Garcia
2 short games, that's what Pedro Vera and Aitor Garcia conceded in 44 minutes of play. For their part, Asier Maqueda and Arnau Riba struggled to enter the game and never seemed able to reverse tendency.
Final score: Vera/Garcia 6-0 6-2
Thursday 15:17 p.m. – Solid as Navarro/Medina
Javier Navarro and Christian Medina put all the ingredients in this meeting to win the victory in 2 sets against a pair Cotto / Di Benne who despite everything will not have been unworthy.
Final score: Navarro/Medina 6-4 6-4
Thursday 13:42 p.m. – Qualifying for Pérez and Iriart
Opposed to Nicolaï Maniucov and Victor Maluquer, the Spanish/Italian duo were able to show seriousness and application to win against a pair beaten in qualifying, but who were still able to enter the final table thanks to the status of lucky loser.
Final score: Pérez / Iriart 6-3 6-1
Thursday 11:51 am – Montiel and Acosta validate their ticket for the 8th
Like Jofre and Santana, Alvaro Montiel and Valentino Acosta were in a hurry this morning. By dispatching their opponents in less than an hour, the Spanish-Argentinian pair are in the round of 8 of this FIP Gold Perpignan.
Final score: Montiel / Acosta 6-2 6-2
Thursday 10:32 am – Santana and Jofre too strong
Literally unplayable for the whole match, Aday Santana and Inigo Jofre did not lag behind by winning in 46 minutes against Enrique Vizcaino and Sergi Arquerons.
Final score: Santana / Jofre 6-2 6-2
Thursday – Live from 9:45 a.m.
For watch matches live, it's just below!
Wednesday's report
Wednesday 23:47 p.m. – Scatena/Mercadal at the end of the suspense
Opposed to the 100% French pair composed of Loïc Le Panse and Nicolas Trancart, Jérémy Scatena and Adria Mercadal were able to extricate themselves from the trap set by their opponents in 3 sets.
Final score: Scatena/Mercadal 4-6 6-4 6-1
Wednesday 21 p.m. – Moreau/Inzerillo also qualify
In a tight match, Max Moreau and Jérôme Inzerillo knew how to make the difference at every key moment to win in 2 sets against Daniel de Castro and Ivan Garcia.
Final score: Moreau/Inzerillo 6-4 6-4
Wednesday 20:20 p.m. – Ayuso / Forcin follows suit and takes its turn in 8th
Very solid, the players from the qualifications Quentin Ayuso and Maxime Forcin created a mini surprise by eliminating Joaquin Saura and Alejandro Tasa.
Final score: Ayuso/Forcin 7-5 6-3
Wednesday 18:45 p.m. – Cancel / Guichard first French pair qualified for the eighth
The short rain-related interruption did not disturb Dylan Guichard and Ludovic Cancel, who won 6/4 6/4 against Rodriguez / Vera and qualified for the round of XNUMX!
Wednesday 18:20 p.m. – Rain comes to Perpignan
The clouds were threatening, and as we suspected, the rain began to fall on Perpignan. Meetings are suspended until further notice. During the interruption, Cancel and Guichard led 6/4 5/4 against Rodriguez / Vera. When the match resumes, the French pair will serve to win the match.
Wednesday 17:00 p.m. – Valero/Urzola's turn to qualify
The clash between Spanish pairs saw the victory of Valero / Urzola against Morales / Deltell: 7/5 6/4.
Wednesday 15:05 p.m. – Sese/Carmona first qualified for 1/8ths
The Spaniards Alberto Sese and Albert Carmona dominated the French Julien Seurin and Lilian Fouré in two sets: 6/4 6/4.
Wednesday – Live from 14:00 p.m.
Here are the matches that will be broadcast on our YouTube channel, with no less than 11 French competing today:
14 p.m. – Fouré / Seurin vs Sese / Carmona
15:30 p.m. – Valero / Urzola vs. Morales / Deltell
17 p.m. – Cancel / Guichard vs. Rodriguez / Vera
18:30 p.m. – Saura / Tasa vs Ayuso / Forcin
20 p.m. – Moreau Inzerillo vs. De Castro / Garcia
21:30 p.m. – Mercadal / Scatena vs Le Panse / Trancart
For watch matches live, it's just below!
The Tournament Program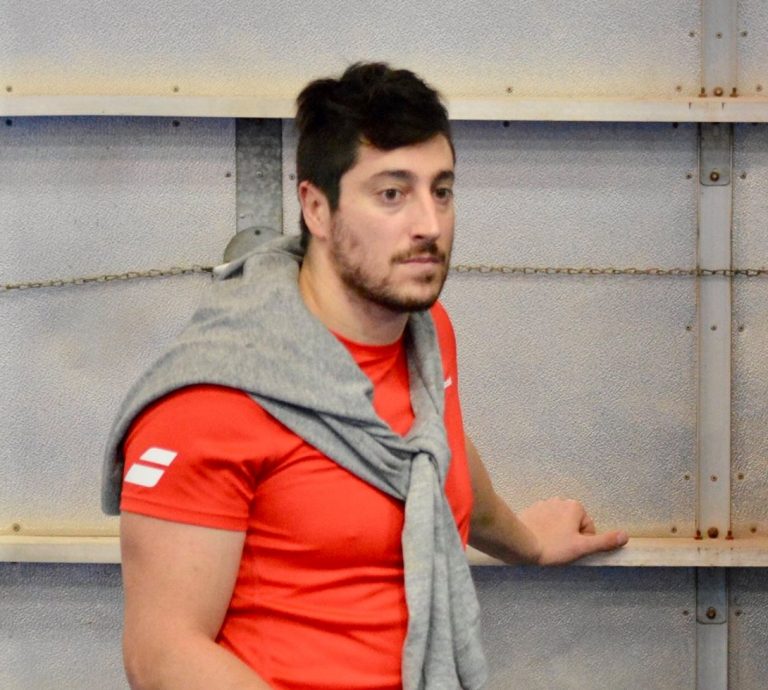 Xan is a fan of padel. But also rugby! And his posts are just as punchy. Physical trainer of several padel, he unearths atypical posts or deals with topical subjects. It also gives you some tips to develop your physique for the padel. Clearly, he imposes his offensive style as on the field of padel !