Removed from tennis courts since 2015, Flavia Pennetta just opened 2 tracks of padel in Brindisi, his hometown.
A gift to Brindisi
The only Italian player to have won a Grand Slam tournament in both singles (US Open 2015) and doubles (Australian Open 2011), Flavia Pennetta decided to invest in the padel à Toast, in Puglia. The Brindisi Tennis Club is therefore equipping itself with two courts which will be available from May 1st. "I wanted to give my city a gift", she explained to the Corriere dello Sport.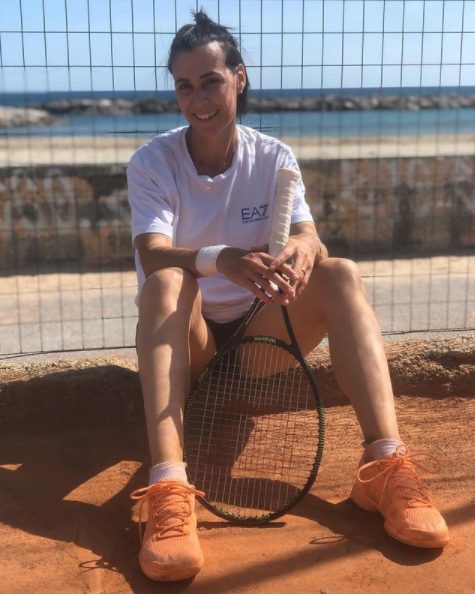 A lot of waiting
Noting the boom in padel in Italy, which now has more than 2000 tracks, the player who won the Fed Cup 4 times, contributed her share so that the region develops its offer and attracts new practitioners. "Padel in Puglia is awesome, if she enthusiastically. In Lecce, the grounds are still occupied and the turnout is high. We have received many messages from players in Brindisi who are eager to play. From mid-April, we will offer the opportunity to reserve the grounds for the month of May. There is a lot of waiting in the city ".
Predispositions for the padel
Now in the shoes of an entrepreneur, Flavia Pennetta also plans to improve in the padel, like former colleagues who have adopted the discipline, which is more fun and playful than tennis. The former world number 1 in doubles could only join, even if she remains a beginner. "I have only played padel only once, she admits. The first difficulty I encountered was knowing how to best use the walls. Coming from tennis, I am predisposed to play net but it is not the only possible game. I will have to play more".
And to progress, the Italian has two models. "Sara Errani (Roland-Garros finalist in 2012 and winner of the 4 Grand Slam tournaments in doubles with Roberta Vinci, editor's note) which is very strong. We grew up with Marta Marrero (1/4 finalist at Roland-Garros in 2000, current 5th in the WPT, editor's note); she quickly stopped playing tennis and is now one of the best in the world ". And as for an association with her husband, the whimsical Fabio Fognini, Pennetta considers this possibility with a smile: "why not ? I have fun with him, it would be a way to let off steam for both of us ".