KIP SPORT is a benchmark as a constructor of Padel
KIP SPORT develops and equips the Padel from the ground up to the cover for clubs Padel all over France.
Contact the KIP SPORT account manager:
Bruno Martins
+06 (25) 96 19 27 01 64 / +72 (47) 40 XNUMX XNUMX XNUMX XNUMX
bmartins@kipsport.fr
Recent land development achievements of Padel by KIP SPORT:
Discover our achievements as a land builder of Padel :
Padel Horizon : 5 courts of Padel indoor.
Garden Tennis Rennes : 2 courts of Padel indoor.
Montfort l'Amaury: 1 field of Padel outdoor.
Bonchamp lès laval: 2 courts of Padel outdoor.
Ball in gold: 4 courts of Padel indoor (in progress 2021).
The creation of a club Padel from A to Z with the KIP SPORT & DoinSport partnership.
KIP SPORT partners with DoinSport to offer you a partnership for the creation of your Club of Padel including the layout of the field, the equipment and the management of the club with the DoinSport software. Contact us KIP SPORT ou DoinSport to benefit from this partnership.

The strengths of KIP SPORT
KIP SPORT is a French company specializing in the development of sports grounds, the supply and installation of infrastructure and sports equipment for 30 years.
We have a very experienced team dedicated to the installation which guarantees a quality installation.
At the heart of technological development, we guarantee long-lasting sports infrastructures.
Our range of products is suitable for both leisure and the requirements of international competitions.
KIP SPORT certifications
Qualisport padel qualifying for subsidies from the French Tennis Federation.
Greenguard gold (synthetic turf).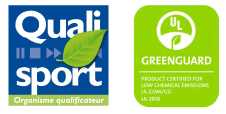 For more information on the layout and sports equipment visit the KIP SPORT website

Team Padel Magazine tries to offer you since 2013 the best of padel, but also surveys, analyzes to try to understand the world of padel. From the game to the politics of our sport, Padel Magazine is at your service.