Gemma Triay is perhaps one of the best players in the world. With 35 career titles and three years at the top of the world rankings (in 2020 with Lucia Sainz and with Alejandra Salazar in 2021-2022), she literally flies over the professional circuit.
Gemma, a very dangerous player
But what makes Gemma Triay such a good player? Is it the power of his strikes? Sa view unbelievable, which allows him to know the shots of his opponents before they even have time to hit the ball? What is certain in any case is that the player from Menorca disturbs the other players on the circuit.
So much so that she very often finds herself "put in the fridge". This means that his opponents do everything they can to prevent him from touching the ball.
A strategy that pays off
And if some players agree to play on the former world number, this is not the case for everyone. We saw this in particular during the semi-final in Amsterdam, against Brea/Gonzalez, during which Triay had to barely touch 20% of the balls. Indeed, Bea Gonzalez has often preferred to avoid diagonal combat and play on Martita Ortega, who will have been in enormous demand.
It is therefore difficult for the player from Menorca to find her place on the track. If we could attest a tactical change initiated by his coach Rodrigo Ovide, it did not necessarily work. Triay completely changed his positioning, moving closer to the midfield line to be able to attempt interceptions.
Regardless, in addition to being one of the best players of her generation, Gemma Triay is also a particularly resilient person. Indeed, if in the end it was Bea and Delfi who won – proof that the fridge strategy worked well – the former number 1 tried everything to try to exert as much influence as possible in the match…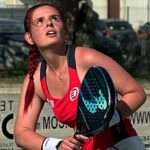 It was his brother who one day told him to accompany him on a track. padel, since then, Gwenaëlle has never left the court. Except when it comes to going to watch the broadcast of Padel Magazine, World Padel Tour… or Premier Padel…or the French Championships. In short, she is a fan of this sport.