For his first selection in the French team, Jean-Thomas Peyrou is obviously delighted to be part of the group that will fly to the European Championships in Marbella.
"I proved that I had the level to join the team"
Padel Magazine : First selection in the French team of padel for you, did you think it would be done so quickly eventually?

Jean-Thomas Peyrou: I think all the planets were a bit aligned for me. Robin became manager so he freed up a place on the right. The conditions for Max to join the selection were not yet met. I trained, I am the 4th French player, I prepared myself extremely well for the camp. But the competition is tough, there are a lot of players who play very well in France, it could very well have been another. I am very proud and happy that the coach chose me. I loved the speech he had with me.
Padel Magazine : Do you think the internship made the difference? The fact of playing with Adrien Maigret also?

Jean-Thomas Peyrou: Yes obviously, the coach made us understand that it was a selection camp. I arrived as prepared as possible, I trained a lot physically, I arrived ready. I played very well with all the partners, so obviously I think I scored points on the pitch and proved that I had the level to join the team.
Playing with Adrien of course also helped tip the scales in my favor. We managed to do a few international tournaments, especially in Italy where we beat the Italian number 3 pair in straight sets. I managed to set up a structure around me in Bordeaux which allows me to have time to play with lots of helpers, sponsors, a high-level academy within the Big Padel Bordeaux, with a physical trainer. I try to professionalize this sport as much as possible, and necessarily between the project with Adrien and what I put in place in the padel, that inevitably helped.
"Holder, not holder: I do not ask myself the question!"
Padel Magazine : Who are the players with whom you have felt the best on the court?
Jean-Thomas Peyrou: I loved playing with Adrien, we had a great first match where it worked really well. We have a superb chemistry, together we manage to play at a very interesting level. I also loved playing with Jo (editor's note Johan Bergeron). I found him great with me, super calm, always in the positive. I have a little anecdote on this subject. Sure a forehand bajada, at one point I made a mistake and he immediately came to me telling me that it was great because the opponents could think that from now on I was able to make this move so frankly I found him great in attitude.
A little disappointed with my last match with Jérémy Scatena, we had a lot of training matches together in the past when I went to join him in Barcelona, ​​we are hyper connected but on the last meeting he and I accused the blow of the 5th game, we were very tired but I love playing with him.
Padel Magazine : Today do you see yourself more as a replacement or as a holder?

Jean-Thomas Peyrou: We are a team, we are 8 players. Obviously players stand out. I am thinking of 5 players who are indestructible. Then it is the choices of the coach. I do not ask myself the question, holder not holder. If Alexis calls on Thomas, Jerome or me as the sixth man, we will both respond present. We will be completely behind one or the other, the competition is super healthy and I think there are a lot of factors that come into play. The moral state, the physical state of each, the understanding with the partner with whom we are going to play, the playing conditions, the opponents. The choice of breeder will depend on these parameters.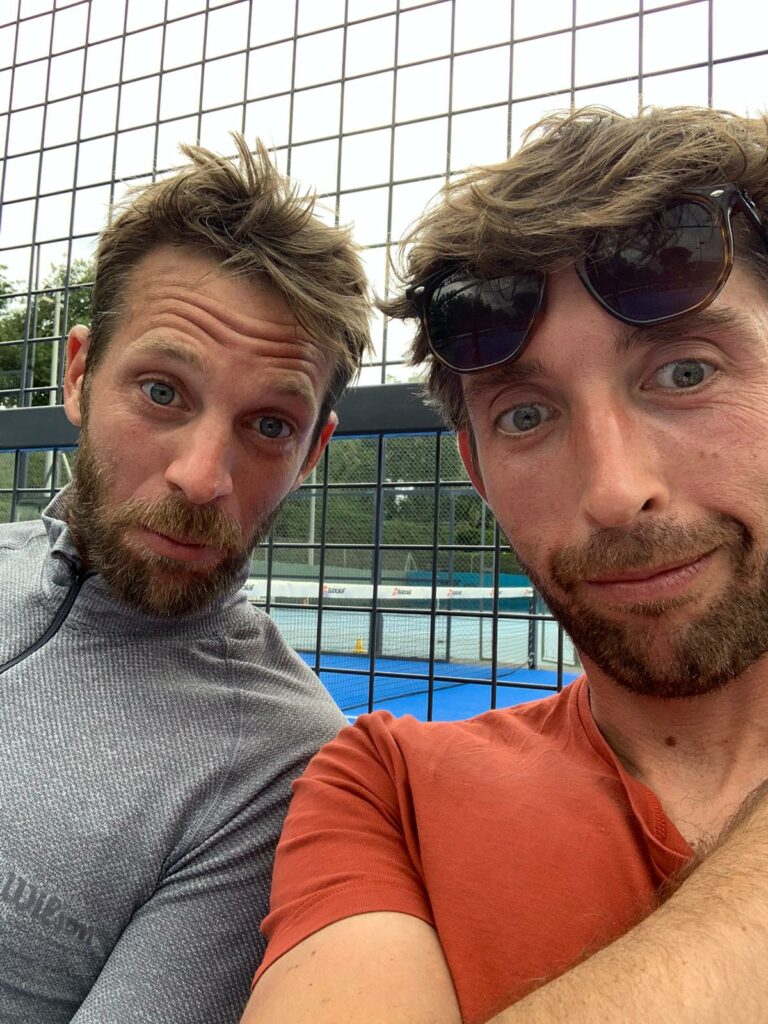 "The most important in padel, it's the team "
Padel Magazine : Can we say that this selection is a dream come true for you?

Jean-Thomas Peyrou: A dream no, on the other hand it is a great pride to be able to join the French team padel. I think it sends a great message despite my age. I'm 36, not 37 (laughs), but I feel really young in my head. I'm brand new to the padel , I started my first tournaments in August 2017. I find that my selection sends a very strong message: with work, passion, ambitions, good will, we can do great things and I feel good better prepared than 20-year-olds!
Padel Magazine : Let's say you don't have the most aggressive style of play, do you think that could be a handicap?

Jean-Thomas Peyrou: I don't really agree. For me in France we consider the padel too individual. We tend to put the players in boxes: defender, he does not hit very hard he has no talent… I think that the ability to train is a talent.
I see what's going on in Spain and for me the most important thing is the team. The understanding between two players is the most important. Yes obviously I don't have the best par 3, but I am able to rebalance the game from behind, to bring all my good will, to make my partner play well and I think that these are qualities at least as important as to have a big smash.

Team Padel Magazine tries to offer you since 2013 the best of padel, but also surveys, analyzes to try to understand the world of padel. From the game to the politics of our sport, Padel Magazine is at your service.