In an interview for Swedish media Padel Alto, Mauri Andrini, coach of the Great Britain team, looks back on the European Championships of padel 2021 and in particular on their organization.
Argentinian Mauri Andrini is a well-known actor in the world of padel. Present at the European Championships which took place in Marbella, the coach of padel looks back on this competition with Filip Björne de Padel Alto. After a decryption of the sporting situation of the padel in Europe and the different results of the competition, he answers Filip's questions about his feelings about the organization of the event. Extracts.
"I hope there will be a before and an after"
"There are so many things that could have been done better. Whether at the level of the place where the competition was played, water that was not provided to the players. The players couldn't even bring bananas or anything because the security guards opened their bags for them and if they had food they couldn't pass. "
"You had to buy everything inside, except that there wasn't even a real restaurant. Players had to take taxis as there were not enough shuttles etc. I will stop but I could tell many other anecdotes… "
"For the media who were present on the site, and who have been helping our sport to grow for years, it was also very complicated."
"A company, Padel View, which I didn't know, was supposed to stream to all tracks. In fact, only one track was covered by the retransmission ".
"On top of that, it was complicated to watch the matches on their platform, luckily some were broadcast on the FIP YouTube channel."
"We have to be more professional"
"If you speak with the coaches or with anyone on the site, no one will tell you that they were 100% happy with the organization. This is the FIP European Championship, so she is responsible for the event."
"I still think we need to give the Organizations time to learn from their mistakes. I hope that will never happen again. But for next time, we need to find better organizers, and focus more on the details. "
"When I arrived I asked if I could speak to someone from the Organization and I was not answered. I asked for water and it was the same. I wasn't asking them to build an Eiffel Tower in the middle of the site, I was just asking for tiny things. "
"It was little things. For example: we did not have a photo on our accreditation so each time we had to take out an identity card to pass. The same for the players, they had to show their passport each time before playing a match! The more I talk the more I get angry so I have to stop talking about it! "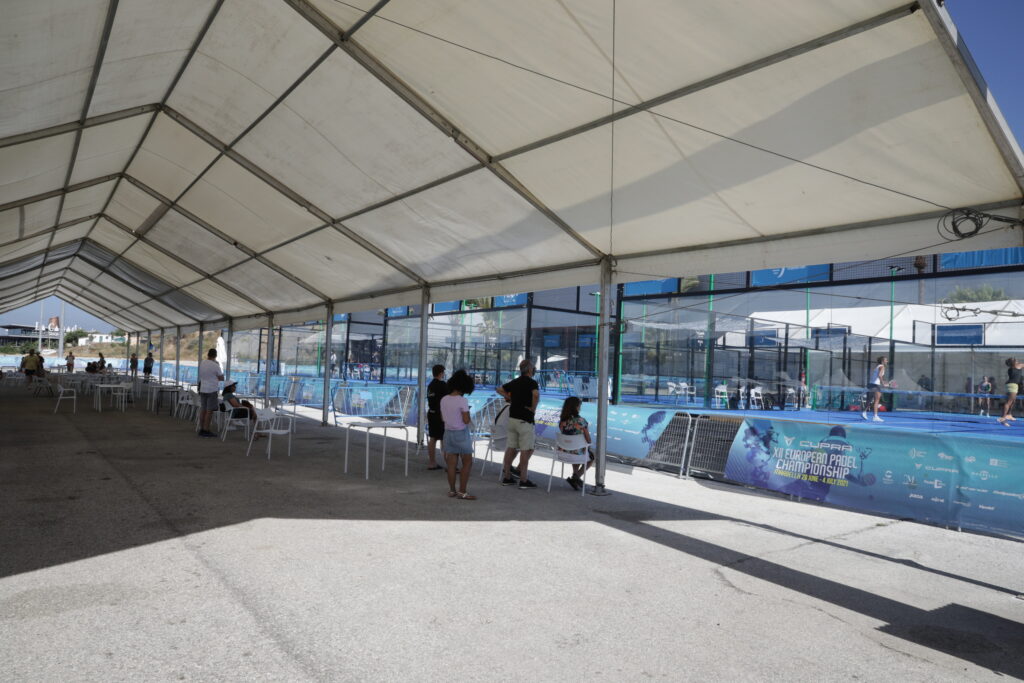 "An opening ceremony in Spanish: who are we kidding?"
"I have an academy, Hello Padel, I coach the Great Britain team, I have had to travel to around XNUMX countries over the past two years. I try to be as professional as possible and to adapt. I think that in order to make this sport grow, the Organization must do the same. "
"The whole opening ceremony was in Spanish. Who are we laughing at ? There were 22 countries, and the only one that speaks Spanish is Spain! All the others speak English. Couldn't they do an opening ceremony in English? In addition to the Spanish players, Paquito, Martita, Lucia Sainz etc. all understand English! "
"The world championships in Qatar will be the event of the year. But I believe that all these institutions must understand that people have been working in this sport for a long time and promoting it when they did not yet know the sport. "
"Now if you don't let them do their job because a company (Ed. Padel View) paid duties or did whatever, it's serious. Besides, in reality, I believe that Padel View obtained the rights without purchasing them. But in any case, the fact of leaving aside these people who started to talk about this sport and who allowed you to be where you are, it's unfair! "

Lack of promotion
"There was no one in the stands to watch the games. No one to see Paquito Navarro play against Javi Rico and Momo Gonzalez! When they are played on the World Padel Tour, thousands of people want to see these matches. There was no promotion, people didn't know there was this event. It was in Malaga and there were more French and Swedes to see France-Sweden than Spaniards! With such an event in Sweden, there would have been thousands of people every day. I also hope that Sweden will soon be able to organize such an event. "
For those who would like to see the full video, it's just below. The passage on the organization of the European Championships begins around the 26th minute.
Team Padel Magazine tries to offer you since 2013 the best of padel, but also surveys, analyzes to try to understand the world of padel. From the game to the politics of our sport, Padel Magazine is at your service.