For this first Zoom racket, Régis Monnerie from Padel XP invites us to take a look at the three top of the Starvie range rackets: Raptor Evolution, Astrum Eris and Metheora Warrior, in order to distinguish the differences to see what each can bring to your game.
As you may know, Starvie is a Spanish brand created in 2002 that manufactures its palas in Spain, using an artisanal process, in its factory in Azuqueca de Henares, near Madrid. It is therefore a benchmark brand in the padel, highly respected because it guarantees the highest level of quality both in terms of the materials used and the manufacturing processes. The Starvie factory is not only a production unit but also a real research and development center always on the lookout for the latest technologies to improve its products.
Starvie racquets are generally rather versatile models, because the brand does not compromise between control and striking power: most of the time it seeks to offer both, to offer powerful racquets with total control.
The top of the Starvie 2022 range consists of 3 models: the Raptor Evolution, the Astrum Eris and the Metheora Warrior.
Similarities between these three models

The three have similarities: they are round-shaped rackets, which use a soft rubber core Eva Soft V30 a 3k carbon, whether at the level of the frame or on the faces, surmounted by a rough surface Full Plane Effect to accentuate the effects.
The round shape gives you a wide sweet-spot, which gives you great typing comfort with forgiveness. Thus, on off-center hits, your racquet takes care of everything and corrects the shot!
The coating of the frame and the faces is a high quality 3k carbon fiber which is characterized by its great resistance and high gaming performance. It gives the frame increased rigidity which will reinforce the power of hard hitting shots.
On the contrary, the flexible Eva Soft V30 rubber core gives you a flexible feeling, which facilitates your shots in control while giving you a fast and powerful ball exit. In addition, this soft foam perfectly absorbs vibrations, which is good for your arm and your joints, which are often sore from hours of padel.
Finally, the rough Full Plane Effect surface accentuates your ball spin perfectly, forcing your opponents to bend their knees to get your cut balls back.
But then, these snowshoes are identical will you tell me? Nay!
We will therefore see what are the differences between these three models that you are dying to treat yourself to!
Raptor Evolution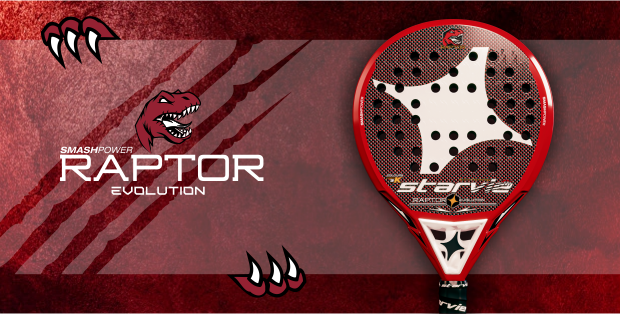 First of all, the Raptor Evolution is a more control-oriented racquet, with its weight balance towards the shaft which gives you maximum maneuverability and ease of movement, which is appreciable at net. .
It is an ideal racket for players looking for maximum control, with greater maneuverability. You will therefore benefit from more sensitivity with the ball, for good control of your game, with precision and a very flexible touch, the power being a little secondary with this model.
Astrum eris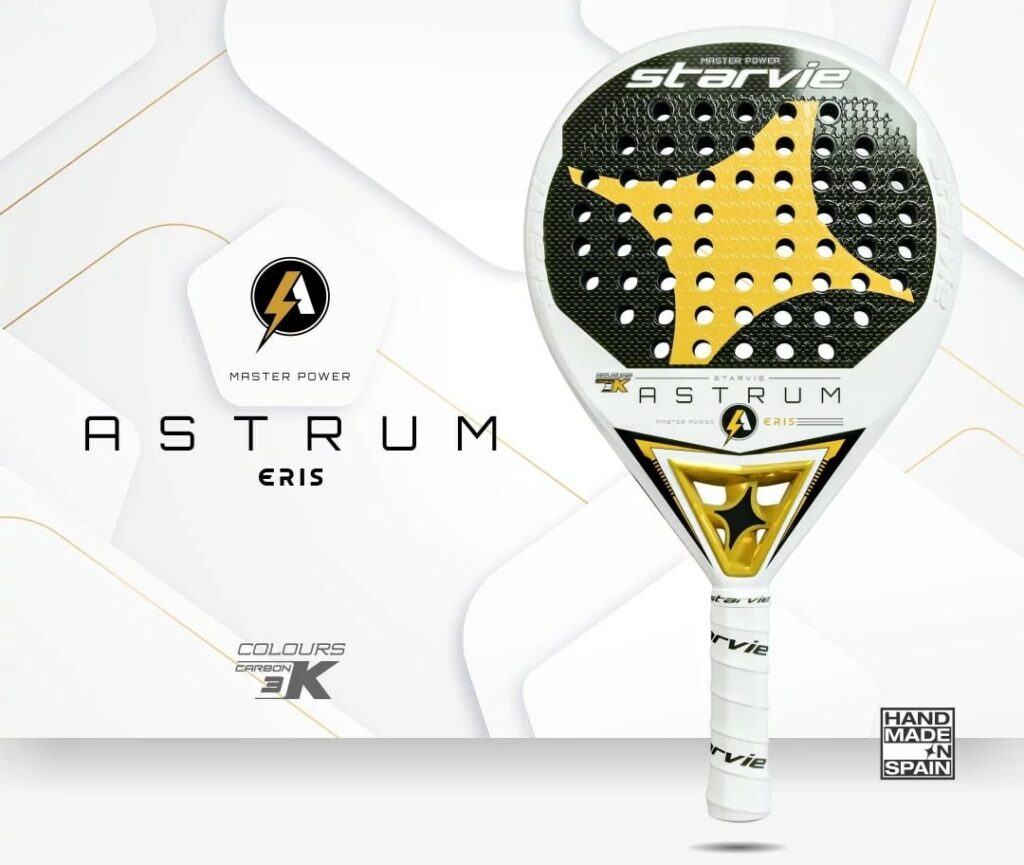 The Astrum Eris, a model coming out this year, is a more versatile racquet than the Raptor, due to its medium weight balance which gives it great overall stability.
It nevertheless remains control-oriented, in particular by the introduction of fiberglass in the coating, in addition to 3k carbon. This gives you a bit more flexibility and agility in keystrokes and touch.
The counterpart is perhaps a loss of power that we feel when hitting, which explains why it offers you more control-oriented versatility.
It is perfect for players looking for balance and stability, with control of their shots to avoid unforced errors.
Pleasant to hit, it will give you ease, with a feeling of control of your game in a good general balance.
Metheora Warrior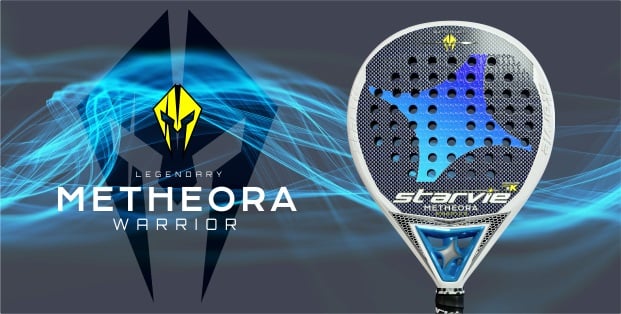 Finally, the Metheora Warrior is the flagship of the Starvie range. It is a versatile and dynamic racquet, with properties of both flexibility and balance, while keeping good power in reserve.
It is an ideal racquet for players looking for true versatility. With a medium weight balance, like the Astrum Eris, its construction is 100% 3k carbon, without fiberglass. The result is an extra hint of stiffness, which gives you a slightly cleaner and drier shot.
Playing performance is high for a very complete racquet that offers less control and comfort than its two siblings, but a little more power in a greater overall balance.
En conclusion
In the end, the three top-of-the-range Starvie racquets are soft, round-shaped racquets with a rough surface that accentuates spin.
You have the choice between a maneuverable and comfortable control racquet, the Raptor Evolution, a control-oriented all-round racquet, in mastering your shots, the Astrum Eris, and a more versatile and dynamic racquet, with a little more power, the Metheora Warrior.
Depending on what you are looking for and if you are not keen on models totally focused on power, there is no doubt that you can find what you are looking for among these three palas.

Régis Monnerie is the founder of the French site Padel XP. Drawing on his experience, he comes back to the questions you have about snowshoes. padel.