In padel, we find all types of players: giant smashers, kids running everywhere. Today, we are focusing on the little ones.
In a previous article, we saw that the average height of the WPT Top 50 players is 1m79. A size which corresponds to the average size for a man in France, and which indicates that the padel can be played by people of any size.
On the World Padel Tour, there are players who do around one meter seventy or less. These players on the right, very comfortable defending low balls in particular, are generally metronomes. We can cite Alvaro Cepero, Federico Chingotto, Maxi Grabiel etc.
But the smallest player to have performed on the World Padel Tour is not very well known to the French public, it is the Argentinian Luciano Soliverez: 1m59! This player, who had been associated with Agustin Tapia, only played 17 games on the WPT but did rather well with 11 wins, almost 65% efficiency. Proof that we can be small and do very well on padel.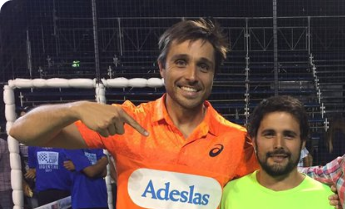 Tapia / Soliverez went to the final of the Fabrice Pastor Cup 2017, dominating in particular the Campagnolo / Di Nenno pair. They had inclined in the final against a pair of the same style : a great smash player on the left, and a very solid little right player, Federico Chingotto and Juan Tello. For those who have never seen Luciano Soliverez play, here is a small excerpt from the final.
Video credit: Facebook Fabrice Pastor Cup
In France also the little ones are doing well. We can cite Kevin Fouquet or Nicolas Trancart, Mai Vo among women (who also plays on the left!), Among the players who take full advantage of being closer to the ground!